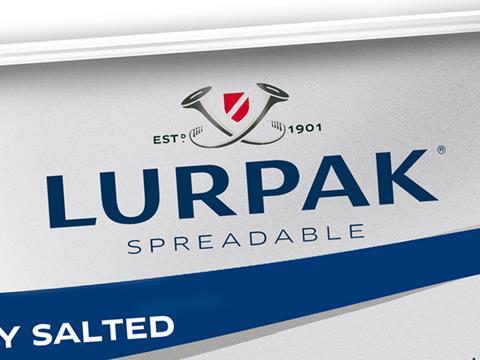 Arla has rejected Defra secretary George Eustice's claim that it can relocate the production of Lurpak to the UK if there is a no-deal Brexit.
The dairy producer will face tariffs of 38% when bringing butter into the UK if the government does not strike a trade deal with Brussels by the end of the year.
Eustice told the Andrew Marr Show that "in a non-negotiated outcome what would happen is companies like Arla, which is a big Danish company and sells brands like Lurpak in the UK, which are manufactured in Denmark – they would have to relocate that production to the UK".
Arla said this is not possible. "We can't move the production of Lurpak into the UK," said Ash Amirahmadi, Arla UK MD. "That's a very straightforward one. Lurpak is subject to legal origin protections which mean it must be made in Denmark using Danish cream."
Amirahmadi added Eustice's claims had "agitated" some of the 2,300 British dairy farmers who own the Arla co-op. "They didn't want consumers to get the wrong impression that Arla didn't have a British story to it."
Eustice also told Marr the introduction of EU tariffs on British dairy exports won't have an effect on dairy farmers as the UK also intends to apply tariffs on EU imports that will "ensure we make space in our market for British producers".
The claim was rejected by NFU president Minette Batters, who wrote on Twitter: "Every farming business will suffer catastrophic damage in a no-deal Brexit."