The UK can now make its own rules on nutritional labels, prompting calls for changes with explosive repercussions. Are they justified? Are they likely? And on what basis will businesses fight them?
Could a can of Coca-Cola exceed your entire daily sugar allowance? The answer could soon be yes. And that's down to potential changes on the can, rather than what's inside it.
Because it turns out Brexit could enable a complete overhaul of the UK's approach to nutritional labelling. Britain's departure from the EU on 31 January has prompted calls to ditch European sugar guidelines in favour of a far more stringent approach that better reflects UK guidance.
The Coke example shows how dramatic the impact could be. In the EU, the recommended daily sugar limit stands at 90g. By contrast, UK dietary advice stipulates a maximum of 30g a day. Under the former, a 330ml can of Coca-Cola would be 39% of your daily allowance. Under the latter, its 35g sugar content would equate to 117%. A can of Pepsi would be even higher at 120%.
Anti-sugar campaigners believe now is the right time to make that change. According to the likes of Action on Sugar, overhauling nutritional labels to reflect the lower 30g limit would help bring sugar consumption down and tackle the obesity crisis.
"The fact that a can of cola has 35g of sugar per can but claims to be only 39% of your daily sugar intake is nonsensical," says Holly Gabriel, registered nutritionist at Action on Sugar. "It is time the system is changed and the UK's exit from the EU provides us with an opportunity to do this."
Indeed, as the likes of Boris Johnson and Sajid Javid assert that Britain will no longer be a rule-taker from Brussels, there is no reason why the UK shouldn't take its own approach to sugar labelling. The Department of Health is rumoured to be holding a consultation later this year that will look at how to improve the current front-of-pack nutrition labelling scheme.
"It is time the system is changed and the UK's exit from the EU provides us with an opportunity to do this"
On the flip side, those against the move say it would be costly, complicated and potentially confusing to consumers. What's more, it could hinder trade. So is the change justified? Will the government acquiesce to campaigners' demands? And on what grounds are businesses likely to mount their resistance?
For the moment, the government seems to be keeping an open mind on the issue. The Department of Health will neither confirm nor deny its rumoured consultation on nutritional labels. A spokesman simply says: "To ensure UK labelling remains effective for UK consumers, we will consider a range of measures to build on the success of our current traffic light nutritional labelling scheme."
The government will certainly have to consider strong opinions on both sides. Health campaigners have long argued against the 90g EU figure for sugar. It is the measure used to inform the on-pack reference intakes (formerly known as guideline daily amounts or GDAs) that have become a common feature on food and drink products. That means a 45g bar of Cadbury Dairy Milk is 28% and a four-finger Kit Kat is 24%. Arguably, both those percentages look pretty permissible to the average punter.
That's why campaigners want to follow UK guidelines, which would make on-pack percentages far less easy to swallow. A Cadbury Dairy Milk would be 83% of your daily limit, while the Kit Kat would go up to 71%. That 30g limit is based on a 2015 evidence review by the government's Scientific Advisory Committee on Nutrition (SACN), which recommends an even lower figure for children.
Going with the SACN figure would also affect traffic lights. Foods carry a red traffic light if the sugar content represents more than 25% of the 90g reference intake per 100g or 12.5% per 100ml for drinks. So food essentially needs to contain 22.5g of sugar per 100g to get a red light, while drinks need 11.25g. Under a 30g reference intake the respective red light thresholds would be reduced to just 7.5g per 100g and 3.75g per 100ml.
Until recently, the UK has had little choice but to follow the European recommendations. Brexit means the UK is now able to set its own limits. Action on Sugar's Gabriel is calling on the government to take that opportunity. "It is time the system is changed and the UK's exit from the EU provides us with an opportunity to do this," she says.
"The recommendation to limit our free sugar intake to no more than 30g per day was an important step in recognising the health impacts of excess sugar intake," Gabriel adds. "That being said, labelling is lagging behind and the current system causes confusion as it's based on total sugars, whereas the sugars in the vast majority of foods and drinks that require labelling are from free sugars."
By free sugars, she means sugars added to food or drinks, or found naturally in honey, syrups and unsweetened fruit juices. There are small differences between total sugars and free sugars – sugars intrinsic in milk and in unprocessed fruits are not considered free – but the vast majority of sugar in processed food and drink products falls under the latter definition.
Gabriel believes labelling should take into account free sugars and work to the 30g daily reference intake. For her, that would cut back on excessive sugar consumption, and therefore obesity – which is estimated to cost society as much as £27bn.
Action on Sugar isn't alone in calling for change. "There's an awful lot to do with labelling and packaging that we can now start to look at," says Children's Food Campaign coordinator Barbara Crowther. "We would certainly be interested in looking at how reference intakes align better with the SACN guidance, but we would also want to put that into a broader context of labelling and the potential for ruling out some of the misleading labelling that suggests, particularly to parents, that products are healthier for children than they actually are."
Crowther is also concerned about the issue of free sugars. She believes the amount should be clearly indicated on a product – and there should be no room to make 'no added sugar' claims when a product contains a high proportion of the offending ingredient.
Under EU law, it is possible to make a 'no added sugar' claim where the product does not contain any added mono- or disaccharides or any other food used for its sweetening properties. Such claims are often used for products such as fruit juice and dried fruit snacks. Campaigners, however, argue these labels can be deceiving since products can still contain free sugars, something they believe consumers wouldn't generally understand.
Yet consumer understanding also forms part of the argument against change. The FDF, for example, believes the current system is clear for shoppers. "Any proposed changes to the label should consider consumer understanding, whether the information can be accurately obtained, the cost and impact to business, and the ease of enforcement," argues Alex Turtle, a law, labelling and enforcement manager at the FDF.
There are doubts over whether consumers would understand the concept of free sugars, in particular. "The problems we have with [using free sugars] are all practical," says one food manufacturing source. "What you can end up with in a product is a mixture of sugar that is free and sugar that is intrinsic. Where it becomes particularly difficult is in products containing fruit and vegetables that are in part puréed and in part not, so things like smooth yoghurts or soups that might contain lumps of fruit or veg. There's a genuine question of how could we actually do this? How do you calculate it? And how do you enforce it?"
Another issue is the sheer level of change that has already taken place. Vanessa Richardson, food policy advisor at the BRC, points out that retailers have just been through an enormous exercise to change labels to meet the requirements of the EU Food Information to Consumers Regulation, which include sweeping and costly modifications to country of origin requirements. Given this upheaval, they are unlikely to support further changes at this stage. "A key issue will be maintaining consistent labelling across the UK into the future to avoid unnecessary additional costs for consumers," she adds.
The British Soft Drinks Association makes a similar point. Director general Gavin Partington says it would be unwise to make any changes ahead of the ongoing assessment of dietary sugars by the European Food Safety Authority (EFSA), which is unlikely to be updated before next year.
Plus, any departure from EU regulations could present a barrier to frictionless trade. "The food and drink sector will wish to continue trading products throughout the UK and Europe and that process is likely to be hindered if there is a rapid divergence on labelling," says Partington.
Will it work?
Perhaps the most crucial question in all this, though, is whether it will actually work. After all, there are ways brands can get around changes to sugar labelling.
Reducing the recommended portion sizes for products would be one way to make sugar percentages seem much lower. That strategy is already in force to some extent – campaigners claim servings for products such as cereals and smoothies already bear little relation to the quantities people actually consume.
"Cereal products have been a big issue where companies say a serving is 30g, but depict much larger portions on pack," says Crowther of the Children's Food Campaign. "If you then ask parents or children to pour out a 30g portion size they often pour out two to three times that amount." That explains why Frosties comes out fairly well in sugar reference intake calculations, despite containing 37g of sugar per 100g.
So Crowther believes sugar reference intakes are just part of the issue. "If the government wants to uphold portion sizing standards it's going to have to set out guidelines [for what is acceptable] much more clearly," she argues.
Then there is the question of whether the public would actually change their behaviour according to labelling. Jack Winkler, emeritus professor of nutrition policy at London Metropolitan University, is in favour of adopting a free sugars definition. But he doubts it will shift consumption habits.
Winkler explains that, by European standards, the UK already has a high percentage of grocery products with front-of-pack labelling, many of which carry one or more red traffic light. That doesn't necessarily mean Brits are adopting healthier buying habits, though.
"Most companies have come to realise that labels don't make much difference to sales," says Winkler. "Some people are very concerned about labels: they read them, they absorb them, they act on them. But if you look at the mass of the population, and not just the 'worried well', most people don't read labels. Of those who read them many don't understand them; of those who understand them many don't act on that; and those that do act don't always act consistently, therefore the effect of nutrition labels on sales is minimal. Consumers have a right to know so by all means do it, but don't expect it to solve the obesity crisis."
Finding a compromise
Given the heated debate around sugar labelling – and the potential disruption it could cause – any change is likely to be a lengthy process. So there may be a case for compromise. The BRC is one organisation calling for a middle ground.
Although reluctant to change the nutritional labelling system, the BRC does recognise there is room for improvement. "There are opportunities to improve nutrition labelling once we leave the EU, such as making the UK recommended front-of-pack nutrition label mandatory," says Richardson.
"Making labelling changes on even one category such as soft drinks would be a huge step forward in terms of clarity for consumers"
Mandatory labelling could prove an easy win because the system is gaining ground organically. In the mid-2000s, when front-of-pack labels first became commonplace in the UK, many food businesses favoured GDAs over the FSA's preferred system of traffic light labels. In recent years, however, traffic lights have become more widely adopted since the government developed its own hybrid system including colour-coded traffic lights and reference intakes. The system is already used by all the major supermarkets as well as a host of leading brands, Sources suggest resistance to making the scheme mandatory, which is in the UK government's gift post-Brexit, is likely to be limited.
Still, campaigners stress it's not always about finding the easiest solution. "Businesses will always argue the barriers to making changes to products or labelling," says Gabriel. "Yes, there are going to be a few areas that are more challenging, but making labelling changes on even one category such as soft drinks would be a huge step forward in terms of clarity for consumers."
Coca-Cola and co may disagree.
Allergen labelling
Allergen labelling is described by one food law expert as "a very fertile area for debate" with "no common ground about what changes to the current law should look like". Under existing EU and UK law, businesses must declare the presence of any of the 14 allergens set out in the Food Information to Consumers Regulation and emphasise them in bold or italics on pack. The list of 14 currently includes common allergens likes peanuts, eggs and molluscs alongside rarer ones such as sulphites and lupin.
Hazel Gowland, from the advice group Allergy Action, says that while she's not currently aware of any heavy lobbying in the UK to change the list, the government may face calls for allergens that are more prevalent among the UK population to be included, specifically kiwifruit and legumes such as chickpeas and mungbeans. Peas are likely to be an area of particular focus for campaigners since pea protein is increasingly being used to replicate the texture of meat in vegan products.
The out-of-home sector is already having to get to grips with a new UK law requiring full ingredient labelling for food pre-packed for direct sale. It follows a campaign from the parents of teenager Natasha Ednan-Laperouse, who died of an allergic reaction after eating a Pret a Manger baguette. Businesses will have to comply by summer 2021, at an estimated net cost per year of over £30m.
EU vs UK sugar reference intakes: how the big brands stack up



Other post-Brexit questions for food labelling
Country of origin
Suppliers may be hoping they can escape the new EU rules on country of origin labelling, due to come into force on 1 April. But because EU regulations remain directly applicable across the UK during the transition period, food businesses are legally required to comply with the new law at a combined cost of millions of pounds. Thousands of largely processed products will need to carry information on the origin of key ingredients.
Under the regulations, any primary ingredient that makes up 50% of the product, or ingredients present in smaller amounts but seen as a "characterising ingredient", will need to have their origin displayed prominently on front of pack.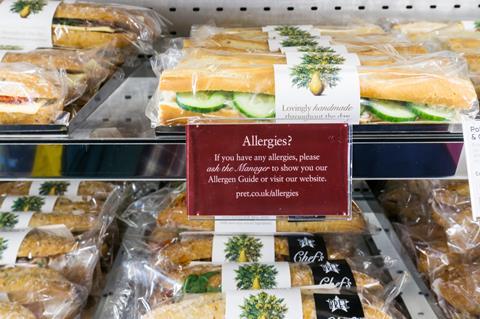 Allergen labelling
Britain's departure from the EU leaves the door open for changes to allergen labelling. According to one food law expert, it's "a very fertile area for debate" with "no common ground about what changes to the current law should look like".
Under existing EU and UK law, businesses must declare any of the 14 allergens set out in the Food Information to Consumers Regulation and emphasise them in bold or italics on pack.
Hazel Gowland of the advice group Allergy Action believes the government may face calls for allergens that are more prevalent among the UK population to be included, specifically kiwifruit and legumes such as chickpeas and mungbeans.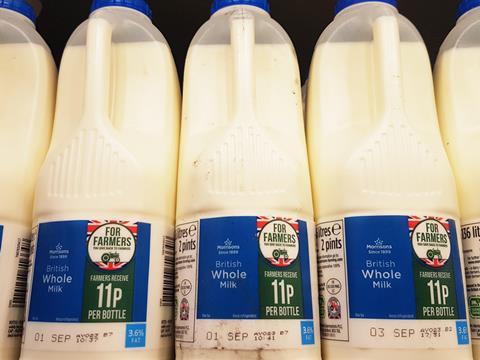 Use by/best before
Established EU laws on durability are unlikely to change significantly post-Brexit. A 'use by' date is required for foods that are highly perishable and constitute an immediate danger to human health if consumed after a certain period of time. Where safety is not an issue, a 'best before' date suggests how long a food can reasonably retain its optimal condition.
However, campaigners may press for the abolishment of other descriptors that aren't a legal requirement. Wrap says 'display until' dates, which are used by retailers to help staff rotate stock, are confusing consumers. It is also calling for the removal of 'best before' dates on selected foods, such as on certain types of fresh produce.