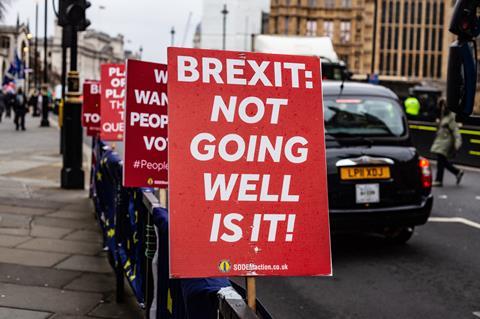 British exporters cited Brexit as one of the main drivers behind a decline in business in 2022, government data has confirmed.
Forty-three per cent of exporters of goods and services said they had seen a decrease in trade, compared with 26% who said their exports had increased.
The most frequently cited reason for a reduction in exports over the past year was the UK's exit from the European bloc.
Some of companies' most prominent concerns regarding the impact of Brexit on exports included a reduction in demand for UK products and services and red tape such as customs procedures, added documentation and other admin burdens.
As part of the UK's trade agreement with the EU after exiting the bloc, the EU introduced stringent border controls on all UK food exports in January 2021.
This saw many businesses temporarily or permanently halt trade with the bloc due to the costs that came with the new levels of bureaucracy, such as export health certificates and customs declarations.
The survey showed those effects extended into 2022. Additionally, more than a third of businesses (36%) also said their growth prospects for 2023 were stunted by a fall in demand for British goods linked to Brexit.
When it came to supply chain challenges, 17% of exporting businesses attributed their issues to the lingering effects of Covid-19, while 16% described them as being mostly caused by Brexit.
Just over a quarter (28%) regarded both events as equally responsible for causing their supply chain issues.
However, the proportion of businesses attributing these issues to UK's exit from the European Union increased each quarter, while the proportion attributing them to the coronavirus pandemic decreased.
These were the results of a government-led survey, in which a total of 3,001 were collected from businesses with an annual turnover of £500,000 or more throughout the year.
The Department for Business & Trade report read: "Throughout 2022, businesses continued to face significant challenges, including pre-existing concerns around the UK exit from the EU and Covid-19.
"These, and new issues relating to the Russian invasion of Ukraine, inflation, and the autumn growth plan, have created a volatile and uncertain business environment.
"The proportion of businesses exporting has remained stable but reported volumes have continued to fall. Nevertheless, businesses remained optimistic that exports will still grow in the future."
Meanwhile, Brexit remained a top concern for more than half (52%) of UK food and drink manufacturers, separate research showed.
Covid, commodity inflation and Brexit were the top three risks faced by manufacturers in 2023, according to a survey by regulatory compliance company Ideagen.

The research came amid reports that post-Brexit controls on EU food imports were set to be delayed for a fifth time, leaving businesses frustrated.
"Food producers globally are navigating a volatile climate, and lack of clarity around post-Brexit food controls isn't helping", said Ideagen CEO Ben Dorks.
"The focus needs to be on supporting producers and the wider supply chain, not adding to the turbulence.
"Safe, healthy, more affordable food is in everyone's best interest, and we urge those making decisions to set controls and guidelines that enable food producers to prioritise safety, and quality ahead of everything."