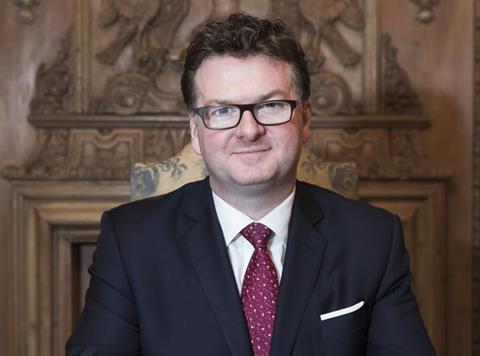 World events have certainly kept Ewan Venters on his toes since he took over as CEO of Fortnum & Mason four years ago. At the time of his appointment in summer 2012, London was the centre of the world stage as it prepared to host the Olympics. Today, there are fears the UK will fade into irrelevance among the international community following the Brexit vote.
This is undeniably a worry for a brand that attracts such a large overseas following. But sitting in the grand surroundings of the Fortnum & Mason boardroom last Friday, Venters stresses he is a "complete optimist". The throngs of crowds filling every corner of the luxury store – even on a weekday – tell him he is "in for a good Christmas". That isn't to say he is short of opinions on the current state of British retail. Here are his thoughts on everything from Brexit to business rates.
1. Brexit was 'odd'…
Like many retail chiefs, Venters has avoided giving his opinion on Britain leaving the EU. But there is a strong hint he is somewhat uneasy about the decision. "Whenever I travel the world, people find it odd that Brexit happened. Nice sensible people say, 'What happened?'" Still, he remains confident Fortnum can cope with whatever challenges come its way. "Whatever Brexit means, we just have to get on with it. Single market or not, we are in a great place to make the most of it and I think businesses generally should just accept that was the outcome. Clearly everybody has to get down to hard work and get on and trade."
2. …but it hasn't dampened interest in British produce
Despite fears of a backlash against all things British, interest in UK produce is currently at a "very high point", says Venters. He cites the popularity of a Fortnum & Mason cookbook signing in Hong Kong – a "tough" market to crack – as evidence. "There were over 200 people waiting for [author] Tom Parker Bowles to sign the book," he reports. "There's this fascination with Fortnum and with Britishness."
3. Price rises are inevitable
While the supermarkets have remained coy over the impact of Brexit on prices, Venters is clear they will only go one way: up. "There isn't a supplier who hasn't already asked for an increase," he reveals. "It's typically between 5% and 10%, and nothing north of 10%." Many may believe Fortnum's emphasis on British produce will protect it from the effects of a weakened pound, but Venters stresses "every British supplier is affected by foreign currency". "While the produce might be developed and grown in the UK, typically the packaging will come from China or somewhere else in the world. So there's no way of avoiding there will be increases starting to come through." However, Venters is keen to point out that Fortnum customers are "every bit as price sensitive" as run-of-the-mill supermarket customers, so it will try to absorb hikes wherever possible.
4. Black Friday isn't a UK holiday
Attracting more UK customers has been a key goal for Venters as CEO. So far, his strategy seems to have worked – domestic customers now account for 60% of all sales (as opposed to 40% before he took over) and Fortnum has just announced a third year of record-breaking sales and profits. But Venters is determined not to pursue UK custom at all costs. Participating in traffic-driving Black Friday deals, for example, was never an option. Venters has been publicly critical of the UK adopting the US tradition and says he is willing to stick to his guns – even if it means missing out on potential sales. "Store sales were up 18% on the day and we had no discount, but web business was flat so we must have taken a hit in terms of online activity that day," he admits.
5. Business rates revamp is 'wrong'
The government's new business rates system will land Fortnum with a 45% increase in its bill that will run into "hundreds of thousands", Venters reveals. He is highly critical of the plans, which will primarily hit Londoners with hefty increases. "I know the old system was probably unfair but I think the government has got it wrong," he argues. Of particular concern is the impact on the small independent shops that characterise the West London area. "They are going to have an incredibly tough time when these bills really hit home," he says. Venters believes some will inevitably fold under the pressure, but hopes the majority remain. "It would be a very sad place if we lost them."