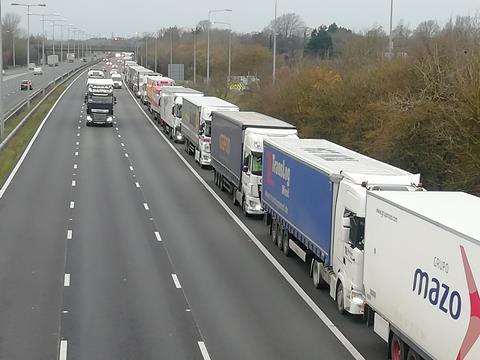 Supermarket lorries returning to Europe to restock will be prioritised at the border under new government proposals to avoid food shortages caused by post-Brexit disruption.
The new 'Expedited Return Scheme' would allow empty lorries that supply the major retailers to jump ahead of traffic jams at Dover and the Eurotunnel so they can quickly refill and return to the UK with full loads.
The measures are intended for "short-term use in an emergency situation only", according to proposals seen by The Grocer, and will be initiated only "if there is a serious risk of disruption to food supply in the UK".
The key trigger points will be if congestion to Dover exceeds eight hours and deliveries to UK supermarkets fall below 75% of expectations for two consecutive days. Other contextual factors such as consumer demand will also be considered.
Simon James, Defra's director of constitution & borders, launched a consultation with industry figures this week, stating the proposals were necessary "to ensure continued flow of food supply to the UK" in the event of disruption.
An accompanying explainer document said the just-in-time nature of UK food supply chains made them "inherently susceptible to delays", noting the closure of the UK-French border in December meant a quarter of supermarket deliveries were not completed for several days.
It also pointed to the first coronavirus lockdown in March, when consumer stockpiling and panic buying left supermarket shelves empty on a daily basis. "It is highly likely such behaviour would be further exacerbated if food supply was subject to disruption," said the document.
"The overriding objective of this policy is therefore to provide a means for food freight to flow through the Short Straight crossing and to provide assurance to the food supply chain that they would not be subject to significant delays." The prioritisation will also cover goods leaving the UK for Gibraltar.
The scheme will only cover vehicles supplying food to Tesco, Sainsbury's, Asda, Morrisons, Aldi, Co-op, Lidl, Waitrose and M&S, and will not exceed 300 permits per day. The government said accommodating all transport would "overwhelm" the system.
The eligibility criteria drew sharp rebuke from other sectors of the food industry. "Whatever the supermarkets ask for from this government they are given under the guise of keeping food flowing to GB shelves," said one industry source. "The influence and power of the supermarkets within government keeps growing and growing."
The plans have been launched alongside other proposals from the transport department to make it a legal requirement for lorry drivers to be in possession of a negative Covid test upon arrival in Kent.
A government spokesperson said: "The UK has a highly resilient food supply chain – and the food industry is well-prepared to handle changes in food supply.
"As part of our contingency measures, we are planning a scheme to ensure lorries carrying food can quickly leave the UK to restock and return without disrupting supply chains – and are speaking with stakeholders about how we can best deliver this."