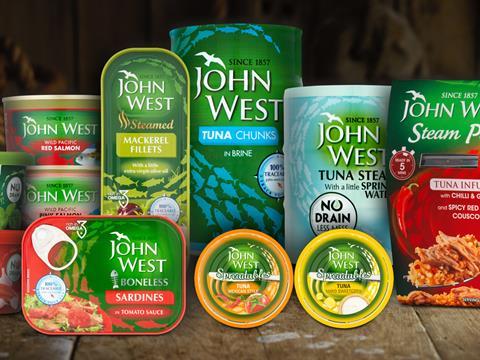 John West is set to bypass the UK as part of a major post-Brexit supply chain reconfiguration for supplying Ireland.
The Thai Union subsidiary previously used the UK as a consolidation hub for imports around the world destined for Ireland. However, since the start of the year this has incurred tariffs of around 20% and paperwork complications.
It has now opted to ship directly into Dublin. This was "decisive action to address the significant challenges raised by Brexit," said Peter Rooney, John West's Ireland country manager.
While the move had complicated John West's supply chain and driven up costs, it had become the "least worst option" following the UK's departure from the EU, said Conor Whelan, MD of Stafford Lynch, which recently became John West's Irish distributor.
The Irish market typically requires smaller quantities than those in the UK, resulting in challenges related to economies of scale. John West had consequently reduced its number of Irish SKUs to address the issue, said Whelan.
Many food companies supplying Ireland have fallen foul of rules of origin implications in the UK-EU trade deal. While some have sought to take advantage of direct shipping routes between Ireland and mainland Europe, issues such as minimum order quantitates and labelling have meant it is not applicable for all businesses.
"There's a myriad of issues associated with that, which is probably one of our biggest challenges at the moment," said Whelan. Trade between Great Britain and Ireland fell significantly during January as the new border down the Irish Sea took its toll. Food and live animals were among those hardest hit with a 75% decline.
It meant Irish imports from GB fell from €187m (£160m) in January 2020 to €62m this year [Central Statistics Office, Ireland].
Whelan said the issues had led other companies like Petty Wood, owner of the Epicure brand, to stop supplying the Irish market from GB and instead appointed Stafford Lynch to supply the market directly from within Ireland.