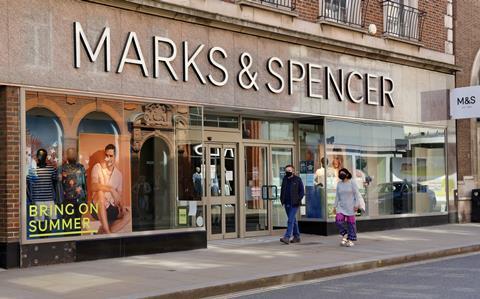 M&S has called for another six-month extension to the start of checks on supermarkets goods moving from Great Britain into Northern Ireland.
It is the first time a supermarket has explicitly called for a further extension beyond October.
In a conference with over 350 of its UK and EU suppliers this week, M&S said 96% of those attending backed its call to extend the current easements. Kevin Moore and Jim Brisby, the chief commercial officers of Greencore and Cranswick were among those in support.
"With the clock already ticking, the sector needs certainty going into the key Christmas period," said George Wright, commercial director of M&S Food. "So while discussions continue, industry needs a six-month extension to the current easements."
Wright added that the government should engage with retailers and the wider food supply chain to find a solution that protects standards through a "more common sense approach to compliance".
Chairman Archie Norman told Radio 4 last week that M&S was already cutting its Christmas range due to the uncertainty.
Norman reiterated to suppliers on Monday that "it's not the overall purposes of the customs union that are the problem, it is the pointless and byzantine way in which the regime is enforced."
He said the current EU arrangements are "totally unsuitable and were never designed for a modern fresh food supply chain between closely intertwined trading partners."
Read more:
M&S confirmed the current arrangements were threatening its ambitions to move from 'managing mode' into 'investment mode' on the island of Ireland.
The UK and the EU are in talks over reducing the number of checks for Northern Ireland ahead of their full introduction in October. So far however, little progress has been made.
Aodhán Connolly, director of the Northern Ireland Retail Consortium, said last week that supermarkets need to know by August what the arrangements will be to allow time to make key decisions on sourcing.
Yet in reality, weeks or even months of political wrangling lie ahead. Brexit minister Lord Frost published a paper last week looking to replace the existing system with a new 'honesty box' approach to the border, however this was quickly rejected by EU officials.
Frost is now calling for a freeze on the current situation to indefinitely extend the existing grace periods on checks until a new settlement is reached.
It is unclear whether Brussels will agree to further extensions. This week, it paused legal action against the British government in an attempt to de-escalate tensions over Northern Ireland. The EU started the process after the UK unilaterally extended the grace periods in March.
An EU diplomat told the Financial Times the decision was aimed at preventing any further deterioration in relations before the grace periods are due to end.