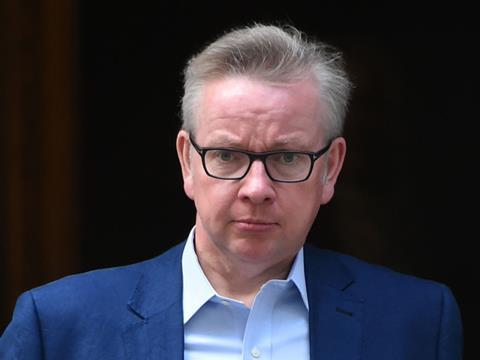 Michael Gove will "have his work cut out" as the new Defra secretary, according to British Growers Association CEO Jack Ward. However, his appointment could also herald "less of a cliff edge" in Brexit negotiations, he suggested.

Gove, who masterminded the Vote Leave campaign ahead of last year's EU referendum, was brought back into government as part of Theresa May's post-election cabinet reshuffle yesterday (11 June).

The often-controversial journalist-turned-politician was sacked from his position as justice secretary by May last year after scuppering Boris Johnson's attempt to become PM by announcing his own candidature.

However, he was reappointed to the cabinet at the weekend by May in a bid to shore up the embattled PM's support among the Tory party after last week's disastrous election result - which saw the Conservatives lose their parliamentary majority. Gove told reporters yesterday he was "quite surprised" to be called back into the government, but "delighted".

Ward said his appointment as replacement to Andrea Leadsom - who has taken over as leader of the House of Commons - was "an interesting move" by Theresa May.

"Particularly as he was so behind Brexit and is now in charge at a department that is probably the most inextricably linked to Brussels," he added.

"He will have 300 pieces of legislation to contend with, not to mention environmental conditions, and food safety regulations, all of which will have come from Brussels."

Ward added that Gove would also have to contend with the question of the future of Common Agriculture Policy payments after Brexit, "not to mention the question over seasonal labour", which also had to be addressed.

"He's got his work cut out over how it will all work post-Brexit," he said, while pointing out the government may now have to adopt a more conciliatory tone in terms of Brexit negotiations due to its diminished numbers.
Appointment welcomed

Gove's appointment was welcomed by NFU president Meurig Raymond, who said the union was "looking forward to working with him to ensure all areas of Whitehall understand and value the importance of British food and farming".

Fresh Produce Consortium CEO Nigel Jenney added it was "vital" Gove listened to the fresh produce industry and took account of its needs for "sufficient labour, efficient regulation and effective trading relationships".

PTF director general Andrew Kuyk said he "looked forward to an early opportunity to meet him and explain concerns of our sector", while FDF director general Ian Wright described Gove's appointment as a "big boost that the prime minister has appointed one of the cabinet's heaviest hitters to a ministry so significantly at the heart of Brexit".

Gove was re-elected in last week's general election as MP for Surrey Heath with a 64.2% share of the vote.

He came under fire for his failed bid to drop global warming from the National Curriculum when education secretary, but has also described himself as a "shy green" in the past.

During the referendum campaign, Gove promised farmers in Yorkshire they would not lose out from Brexit. He has also spoken about how his father's fish merchant business failed as a result of the effects of the Common Fisheries Policy.

However, his father contradicted this view, telling The Guardian last June that he sold the business voluntarily.
At the time of writing, the future of Defra's junior ministerial team, including that of farming minister George Eustice, had not been confirmed.