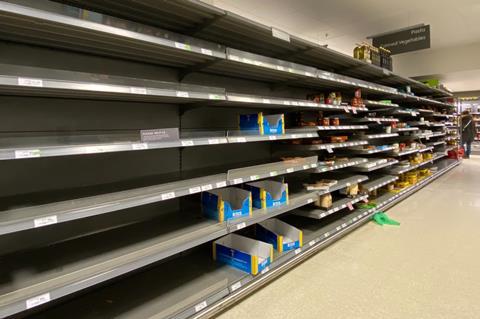 Andrew Opie warned that fresh products such as lettuce and tomatoes would be worst hit by shortages

He said border disruption would cause major problems as "we won't have the food in the country to move around"
Failure to reach a Brexit deal with Europe will lead to much worse food shortages than the coronavirus panic buying crisis: this was the stark warning made to MPs today by Andrew Opie, director of food at the British Retail Consortium.
Speaking to the Environment, Food and Rural Affairs Select Committee inquiry into the impact of coronavirus on food supply, Opie said the empty shelves and shortages seen in March were mild compared to what could happen in 2020 if government negotiators cannot secure a deal with the EU in time.
He said the UK would face a severe threat of shortages of fresh products. With 90% of lettuce, 80% of tomatoes and 70% of soft fruit shipped from Europe, Opie said these would be among the products hit.
Asked what the biggest message from the experience of the coronavirus outbreak was, Opie told the inquiry: "I think mine would be a warning that if we thought this was a problem, I think we should look forward to a disorderly Brexit in January.
"If we get a disorderly Brexit we potentially face a bigger challenge than that faced from Covid. The reason I say that is that at no time did we have a problem getting food to this country during this crisis.
"In fact, Italy increased its food production during the worst time. It increased pasta production and sent more to us because the borders were flowing.
"If we see the border disrupted in January then we're going to have a big problem, because then we won't have the food in the country to move around."
The warning comes as the latest UK-EU talks on post-Brexit trade ended without "significant areas of progress", according to EU chief negotiator Michel Barnier.
The UK has until the end of June to ask for the transition period to be extended into next year, but the government has repeatedly ruled tout such a U-turn, despite the Covid crisis.