Brand History:
A trailblazing brand that helped revolutionise frozen sweets in the early 1980s, this dollop of foot-shaped strawberry ice cream on a stick tasted lovely but melted far too quickly, which might explain why it was withdrawn from sale.
What our Facebook fans said:
"Funny feet were nom. They were lovely and creamy. I thought Twisters would be similar but they are yucky… I'd bring back Funny Feet as they were impossible to eat without getting completely smeared with delicious bright pink yumminess thanks to the toes."
What the brand experts say:
"The main thing most people remember about Funny Feet is the pink foot," says Elmwood designer Ollie Mason. "No one really remembers the red and yellow packaging. So we wanted to hero the foot with the first design and turn the product into the logo marque. It looks fresh and modern and brings the brand right up to date. With the second design we've gone ultra-contemporary and injected more personality into it. It's visually punchy and has got a lot of cut through in a graphically crowded market."
The reactivation plan:
"There are lots of routes Funny Feet can open up in terms of activation, but it should be a brand that doesn't take itself too seriously," says Elmwood brand provocateur Jamie Campbell. "It's a really weird and out-there product, so you could sponsor or organise a comedy festival and champion children's comedy."
How Funny Feet could look
- No one seemed to remember the original yellow and red Funny Feet wrapper, so in terms of brand equity the designers chose to play with the foot-shaped ice cream itself.
- One option was to turn the brand name into the logo marque. With the second option the brand name becomes the ice cream stick on pack.
- For greater standout the designers used more contemporary colourways on the packaging.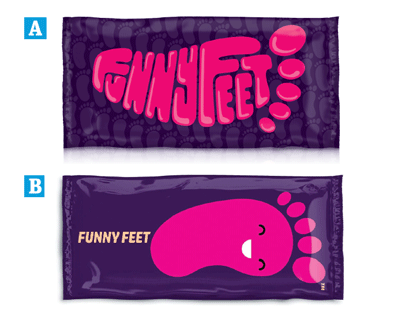 See also:
Bring Back a Brand - the challenge
Toffo (Nestle)
Trio (United Biscuits)
Bring Back a Brand: The reactivation challenge
1

2

Currently reading

Funny Feet (Unilever)

3

4