Brand History:
It seems as if Nestlé just stopped making these classic wrapped ultra-chewy sweets without any warning. One minute they were there, the next minute they were gone, much to the delight of dentists up and down the land.
What our Facebook fans said:
"They tasted scrumptious and I really missed them when they went… They remind me of my misspent youth. The tastes of really delicious flavours, savoured with friends… I love all sorts of toffee, but nothing starts off as hard as a Toffo!"
What the brand experts say:
"The pack format is incredibly difficult because of its shape and size," says Elmwood MD Elliot Wilson. "You've got nothing to play with in terms of canvas so you've got to find ways to build an idea into the word marque." Wilson's design team came up with two options. One was a more modern take on the original word marque, featuring toffee-inspired typography and an updated background with concentric ripples. The second option has a more vintage feel and puts the individually wrapped toffee Toffo front and centre.
The reactivation plan:
"Toffos are really difficult to eat so you could organise an eating competition and invite the world's best competitive eaters to see how many they could chew in an hour," says Elmwood 'brand provocateur' Jamie Campbell. "The re-launch of Toffo could also be bad news for dentists, so we could run a TV campaign with dentists protesting on the streets."
How Toffo coud look
- Toffo brand equity includes the bold yellow wavy typographic word marque as well as the iconic red background and gold foil.
- One option was to update the marque by amping it up with a delicious modern graphic interpretation. The new word marque is glooping like chewy toffee.
- The second option was to go for a more vintage feel. The chunky word marque incorporates a toffee in the 'o'.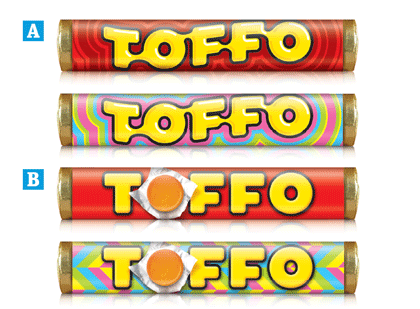 See also:
Bring Back a Brand - the challenge
Funny Feet (Unilever)
Trio (United Biscuits)
Bring Back a Brand: The reactivation challenge
1

2

3

Currently reading

Toffo (Nestlé)

4