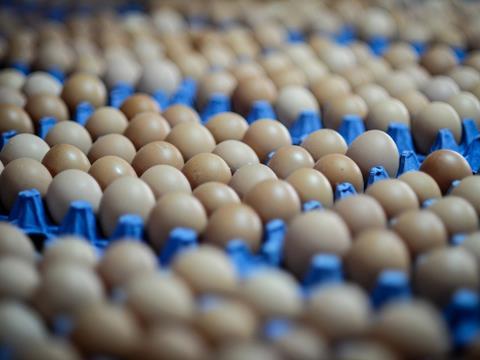 Supermarket pledges to stop the sale of eggs from caged hens could put the current egg sales boom at risk, producers have warned.

Morrisons and Iceland this week became the latest retailers to announce a commitment to phasing out the sale of eggs from caged hens in enriched colonies by 2025, following similar moves by Tesco and Aldi.

The pledges have been praised by animal welfare campaigners, but producers say they threaten to undermine the good fortunes of the UK egg sector, which recently saw sales hit their highest levels of growth since the 1950s.

"After the industry spent more than £400m in converting from battery cages to enriched colonies, it seems quite perverse that the UK egg sector - which has the highest welfare standards in the world - is being asked to invest in another change," said Chris Kirkwood, owner of supplier K Fresh.

"Producers are already suffering from a retail price war, and those who invested in colonies when the battery cage ban came in during 2012 are still paying for that changeover."

Consumers could also miss out, he warned, because eradicating cheap eggs from enriched colonies would lead to less choice and create a shortage of supply.
His comments were echoed by Sarah-Louise Fairburn, brand director at producer LJ Fairburn, who said increased costs for producers were "inevitable", while supplies could tighten as producers switched production techniques. "Colony egg supply was tight back in 2011/2012 when the colony introduction took place."
Finance

Switching to cage-free production would take "significant time, given the investment required and external factors such as obtaining finance and planning permission", added British Egg Industry Council CEO Mark Williams, who also warned retail prices could rise as producers switched systems.
Post-Brexit uncertainty could also affect the financing of the switch to cage free, added egg industry consultant Rob Newell of Origins Consulting, who noted banks would "request a much more robust business plan in order to support such investments".
Egg producers needed clarity on the retailer commitments to switch to cage-free, said NFU poultry board chairman Duncan Priestner, who warned the announcements would not just impact on those using enriched cages but also have a knock-on effect on the entire egg sector.
"This change will impact greatly across all egg production systems so it is absolutely imperative that we and our members have clarity over retailers' future plans and have our concerns addressed as soon as possible," he said.
"Although 2025 is nine years away, time is of the essence to allow our producers to make the necessary changes, with minimal disruption to their businesses and to our customers."
More than 40% of all UK eggs sold at retail are currently produced in enriched colonies.

Retailers have faced growing pressure on the issue, including a high-profile campaign by 14-year-old Sheffield schoolgirl Lucy Gavaghan which has attracted more than 500,000 signatures on two petitions over the past few months.