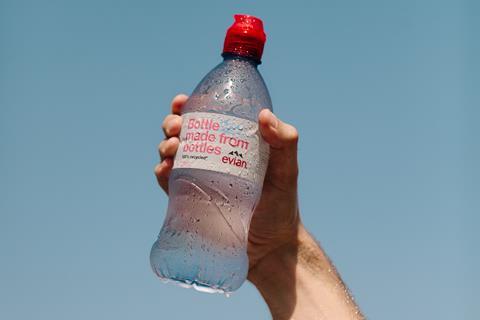 Danone Waters has won B Corp certification
The fmcg giant's waters arm, whose brands include Evian and Volvic, netted a B Corp assessment score of 95.7 out of 200, scoring highly in the 'workers' section of the assessment.
This was because it offers all staff shares in the business and gives employees unlimited volunteering time to give back to the community, said Danone. Companies need a score of 80 to be classed as a B Corp.
Once a company becomes a B Corp, it becomes legally required to consider the impact of all its decisions on workers, customers, suppliers and the entire supply chain.
"Becoming a B Corp isn't an easy thing to do – especially as a larger business," said Danone Waters UK & Ireland MD James Pearson.
"But it is because of this that B Corps stand out. We know we must strive to keep doing more and going further for people and planet – and we look forward to working with the B Corp community and beyond to accelerate progress on the shared challenges we face."
Danone's Essential Dairy & Plant-based business, meanwhile, upped its B Corp score from 80.2 to 86.2, with recent moves including a tie-up with fellow B Corp Ella's Kitchen, which resulted in the creation of a new Kids Food Pouch Recycling Scheme, and a commitment to making all product packaging recyclable, reusable or compostable by 2025.
"Having previously been the first UK dairy company to achieve accreditation, we are determined to keep innovating to be ahead of the curve," said Danone Essential Dairy & Plant-based regional VP Adam Grant.
Danone has said it wants to win B Corp certification across all arms of its business by 2025.
Past months have seen a swathe of food and drink businesses win B Corp status, such as Dash Water, which joined the B Corp ranks in November, and Riverford, which did so the month prior to that.