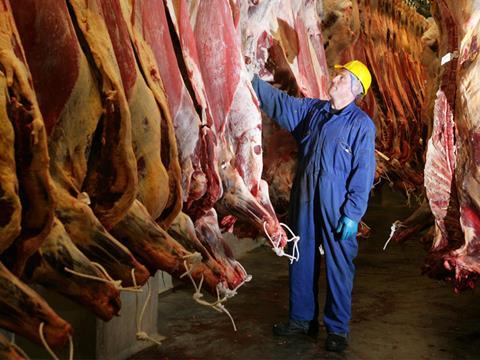 The FSA wants to streamline inspection and audit activity and standardise durability labelling on meat as part of reforms to improve compliance in the meat processing sector.
The agency published its draft review into meat cutting plants and cold stores yesterday, making 19 recommendations which will be discussed by the FSA board at a special meeting next Wednesday.

The review concluded that dual enforcement responsibilities between the FSA and local authorities were "an issue", with one respondent to a survey warning that having so many agencies involved in the supply chain meant intelligence could be 'disjointed and inconsistent', which was creating a 'barrier for compliance'.
The FSA proposed a small, representative number of local authorities should participate in a trial to evaluate the use of a single organisation to deliver all official controls in a geographic area.

The paper also called for the current ad hoc arrangements for communications and information sharing between local authorities and government agencies to be formalised, citing the success of a trial between the FSA and 2 Sisters Food Group launched in June.

It added there was also a need to develop and introduce a "more standardised approach to the wording of durability on product labels and require food businesses throughout the meat supply chain to adopt that approach".
Durability labels carry information including when an animal was killed, processed, packed and frozen. However, the report cited the "plethora" of inconsistencies found on durability labelling across the sector, and noted less emphasis had been historically placed "on the determination of minimum durability dates for fresh meat".
More focus was also required to understand the role of brokers and agents within the sector, it added.

Elsewhere, the paper proposed the greater involvement of industry "to produce clearer guidance to meet the needs of food businesses", in addition to improvements in training, more guidance checks on cold stores after their approval, and a digitising of the application process for meat establishments.
Restoring trust
The FSA launched its six-month review into meat cutting plants and cold stores in February 2018 following the Russell Hume and 2 Sisters meat scandals.

"We launched this review following a series of high-profile events over the last 12 months at a number of meat businesses," said FSA CEO Jason Feeney. "These incidents cast a shadow over the whole sector and not just the businesses directly at fault. This challenged consumer confidence and trust in the industry as a whole."

The review identified actions that the meat industry and the regulatory authorities could take to make improvements, he added.

"There are good reasons why the meat industry has specific controls in place to protect public health and provide assurance about the authenticity of meat products on the market. We are pleased the industry participated so fully in this approach and we expect them to continue to work with us to deliver the recommendations once they have been agreed."