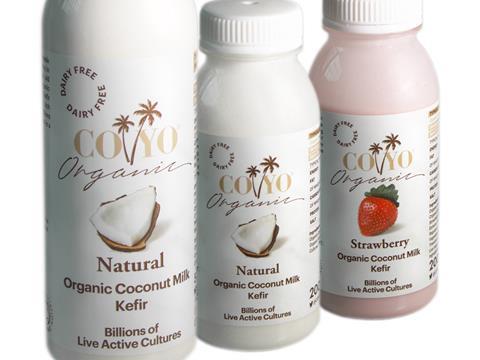 Dairy-free player CoYo has become the latest to jump on the kefir craze in a bid to capitalise on demand for gut health and vegan options.
Its organic coconut milk kefir drinks, set to launch into Ocado, Whole Foods Market and Planet Organic this week, are available in Natural (rsp: £1.99/200ml or £3.50/500ml) and Strawberry (rsp: £2.50/200ml).
Each variant contains 14 species of live probiotic kefir cultures fermented with Sri Lankan coconut milk, including lactobacillus plantarum and bifidobacterium BB12. The end result was 50% coconut, blended with filtered water and a source of potassium, protein, calcium, magnesium, fibre, vitamin B12 and vitamin D, said the brand.
The CoYo products had been in development for a year and would become the first on the market that were both vegan-friendly and bearing the Soil Association organic accreditation, it added.
The brand is best known for its coconut-based yoghurt alternatives and also produces ice cream. None of its products featured refined sugar, said founder Bethany Eaton, instead sweetening products with apple juice.
"The range is made with artisan methods by fermenting organic coconut milk overnight with 14 different live vegan kefir cultures," she said. "The method is similar to the production of dairy-based kefirs, but simply growing the cultures on our plant-based product instead of dairy."
It comes as suppliers pile on the kefir trend with a host of new SKUs entering the category in recent months, including Arla's organic kefir, Yeo Valley's kefir yoghurts and Danone's trio of Light & Free kefir drinks.