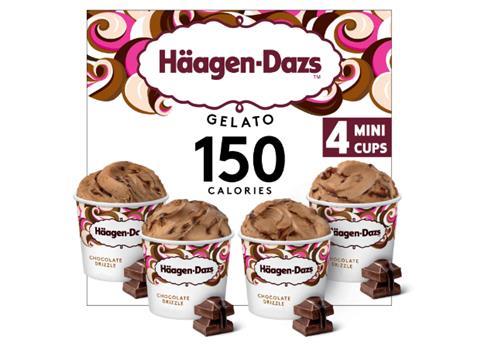 Häagen-Dazs has joined the better-for-you ice cream craze with its first Gelato options.
Available now, Caramel Swirl and Chocolate Drizzle promise no more than 150 calories per 95ml mini-pot (158kcals per 100ml).
Each 100ml contains no more than 12.5g of sugar and between 5.2g and 5.6g of fat – meaning the new duo contains around 30% less sugar and 50% less fat than Häagen-Dazs' regular Belgian Chocolate SKU. This was because "gelato is made with less cream and more milk than indulgent ice cream" according to the brand. "Plus, it has less air than other diet ice cream."
Unlike healthier offers from the likes of Halo Top, Oppo and Breyers Delights, Häagen-Dazs Gelato (rsp: £4.99/4x95ml) contains no sweeteners. It is also free from stabilisers, emulsifiers, artificial flavours and colourings.
Gelato would be Häagen-Dazs' "biggest launch this year" said the General Mills brand's UK marketing manager, Kat Jones. "There's a big demand for luxury ice cream, but sometimes consumers wish life's temptations were just a little lighter."
The new range had been developed "with traditional Italian gelaterias in mind and the end result tastes just as indulgent – but with fewer calories" she added.
Gelato is just the latest healthier ice cream launch of 2019. Jude's added lower-calorie handheld bars earlier this week, while Ben & Jerry's doubled the size of its reduced-cal Moo-phoria range in late January.
All come after the Häagen-Dazs tubs portfolio added 9% in value last year to £60.7m [Nielsen 52 w/e 8 September 2018] on the back of the summer heatwave and growing demand for luxury ice cream products.