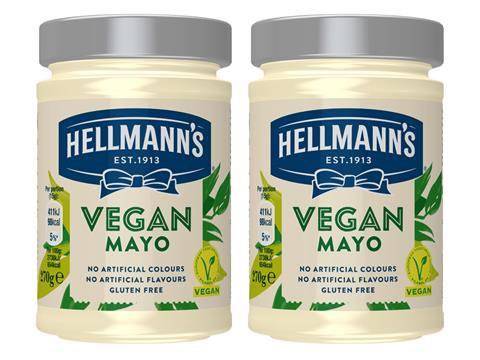 Unilever has taken Hellmann's vegan - launching an egg-free mayonnaise to tap the plant-based trend and claw back £3.6m of lost value sales.

Joining a buoyant tables sauces sector that has seen supermarket shoppers take home an extra 820 tonnes in the past year [Kantar Worldpanel 52 w/e 17 June 2018], Vegan Mayo is made with the same ingredients as Hellmann's standard mayonnaise - except with eggs replaced by maize starch.

The launch follows the sauce's "huge success" in the US, where, like all Hellmann's stateside mayos, it is made with soyabean oil.

The UK version (rsp: £2.15/270g) uses the same rapeseed oil as all the brand's other British variants. It is certified vegan by the European Vegetarian Union.

It was rolling out now to satisfy the third of consumers who identified as flexitarian, Unilever said.

"To continue to appeal to new shoppers, we are actively investing in key consumer triggers, which is why we are introducing a mayonnaise that taps into the vegan dietary trend," added Jon Walbancke, marketing director for sauces & condiments at Unilever.
The debut of Vegan Mayo comes as the Hellmann's mayonnaise range is feeling the effect of a 3.8% slump in value to £92.2m, under increasing pressure from Heinz Seriously Good Mayonnaise, which has seen value sales soar 15.8% to £17.5m [Nielsen 52 w/e 14 July 2018].

However, the overall mayonnaise category continues to surge, with Brits taking home an extra 300 tonnes over the past 12 months, encouraged by "exciting new flavours and formats" according to Unilever.

Also key to volume growth was a significant increase in promotional activity, resulting in an average price drop of 2.5%.