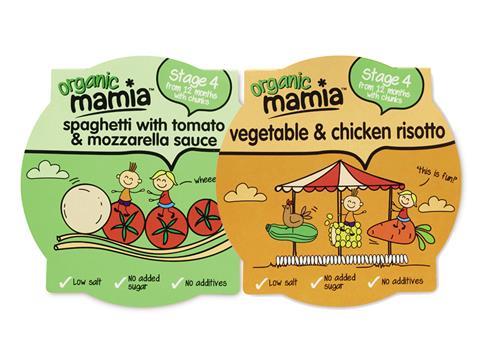 Two leading organic babyfood brands have suffered a hefty blow to sales as Aldi and Lidl debuted cheaper offerings.
Sales at Organix fell 9.7% to £38.2m over the past year, while Hipp Organic's were down 35.6% to £13.9m [Nielsen 52 w/e 12 January 2019]. The brands shed a combined total of £11.8m.
The declines coincided with Aldi and Lidl unveiling their own organic offerings. Aldi, which saw a 13.8% growth in infant and babycare value sales [Kantar Worldpanel 52 w/e 7 October 2018], launched a range of organic meals in September. The tray meals were "inspired by" Hipp's products but, at just 95p each, are almost 30% cheaper.
Lidl registered a 27.8% rise in infant and babycare sales after launching its Lupilu range in April, including organic tray meals also priced at 95p.
Organic brands are now hoping to claw back share through marketing and NPD. Hipp is doubling its marketing spend to over £4m this year following its first-ever TV ad in 2018. "There is a job to be done in reminding consumers why the quality of organic is so important," said general manager John Allaway.
Organix has also splashed out on a £1m TV campaign first aired last month. It comes alongside snacking NPD such as its 'no junk' biscuits Jammie Monsters and Mini Space Cheese Bites.
Organix MD Philipp von Jagow said the "true test" of retailer organic offerings would be their ability to attract new shoppers. He remained confident Organix could grow market share.
"We've set high nutritional standards and we're encouraged to see own label follow our food leadership and nutritional standards, and PHE guidance," he said.
Leading brand Ella's Kitchen weathered the storm with a 2.4% increase in value.