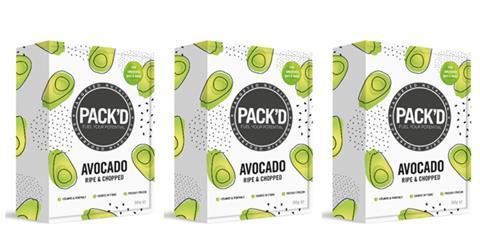 Smoothie kit and frozen fruit brand Pack'd has added a new frozen avocado to its range.
The product is available in Morrisons in recyclable cardboard boxes now (rsp: £3.49).
The product was the first frozen avocado to hit the market without added salt, Pack'd said, and was designed to have the same taste and texture as fresh.
The brand aims to fill a gap in the market to reduce waste from avocado consumption and ensure consumers have ripe avocado every time.
"Every product launch is exciting of course, but this launch feels particularly momentous for us as a business," said Alex Stewart, founder of Pack'd.
"This is not just a new SKU, but one that is entirely shaking up the category, both in terms of fresh and frozen. Finally, consumers will be able to buy avocado from the freezer that is guaranteed to be as it should be, every time, and you can defrost and use only what you need."
This new launch comes following a successful year, the brand claims. It said it had a turnover of an excess of £3.8m at the end of 2021 and 50% growth year on year for the past three years.