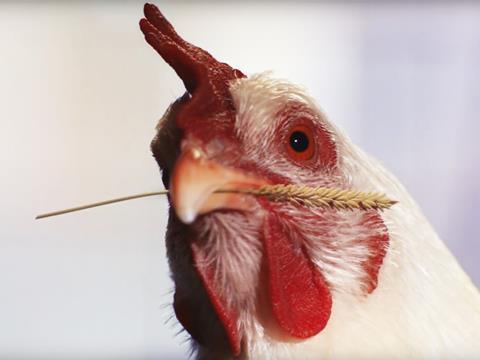 World Animal Protection has slammed some of the UK's biggest restaurant chains as 'failing' when it comes to chicken welfare.
In its Pecking Order report, the NGO rated all nine companies surveyed as 'poor' to 'failing' on animal welfare commitments, based on an evaluation of policies and data in the public domain. The companies surveyed were Burger King, Domino's PLC and the pizza giant's US parent Domino's Inc, plus Starbucks, KFC, Pizza Hut, Subway, Nando's and McDonald's.
WAP rated each company out of a possible 90 points on commitments such as avoidance of close confinement, provision of meaningful enrichment and humane slaughter processes. It also graded on whether the companies had clear targets in place for the implementation of such commitments if not already in place, and were reporting on the outcomes.
According to the report, Starbucks, Subway and Burger King came out on top, each scoring a total of 36 out of 90. Fulfilling less than half of the NGO's gold standard criteria, the efforts were deemed 'poor', while McDonald's, Nando's, Pizza Hut and KFC were 'very poor'. The two Domino's entries were both branded 'failing', with Domino's Inc failing to tot up a single point.
Some restaurants hit back at the claims to defend their standards. Subway said it was working with Compassion in World Farming in the US and in the UK, reared chickens at a lower stocking density of 30kg per sq metre, compared with the 38kg allowed by law. Meanwhile, Nando's insisted it never used caged chickens anywhere in its global supply chain.
"All our chickens are reared in deep littered, well ventilated barns," said a spokesman for the chain. "In the UK, all our chickens are barn-reared to Red Tractor standards. We provide detail about what this means on the website and we clearly display the Red Tractor logo on every Nando's UK menu."