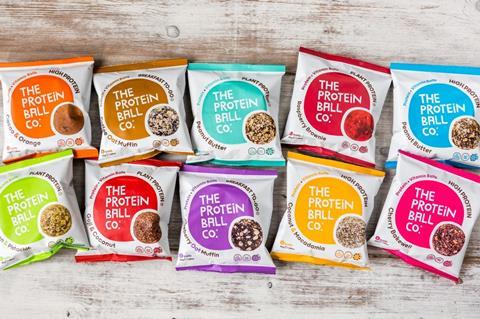 The Protein Ball Co has overhauled its range of high-protein snacks in a bid to further tap into the burgeoning sports nutrition market.
The brand has revamped its packaging with a new logo and "improved" nutrition credentials, as well as reducing the number of SKUs in its range from 11 to 10, having reworked the breakfast offering.
The 10 flavours are now split into three categories: High Protein, Plant Protein and Breakfast-to-go.
High Protein comprises Peanut Butter, Cacao & Orange, Coconut & Macadamia and Cherry Bakewell flavours, Plant Protein includes Lemon & Pistachio, Goji & Coconut, Raspberry Brownie and Peanut Butter, while the Breakfast-to-go range is made up of two new flavours – Coffee Oat Muffin and Blueberry Oat Muffin.
As well as the new look and refined range, The Protein Ball Co has also altered the recipes for its products, making them "healthier than ever" and "packed with" vitamins B12, C and D3.
The protein balls are all gluten, wheat, palm oil and GMO-free and claim high protein and fibre credentials (up to 13g protein and 3.5g fibre per 45g pack).
Founder Matt Hunt said the sports nutrition category was "very competitive and ever-changing" and he wanted The Protein Ball Co to appeal to a "variety of consumers from sports people to gym enthusiasts, fitness experts and healthy eating gurus".
"We've made tweaks and changes and introduced new flavours and categories to ensure that The Protein Ball Co will appeal to anyone looking for a healthy, nutritious, delicious and satisfying snack," he added.