Our kids are being watched… or at least their lunchboxes are. Schools are setting strict guidelines on what we can put in our little ones' packed lunches. At times they're enforced with an iron fist: Mumsnet is awash with angry parents' stories of confiscations.
Parents are rebelling. More than one in four who send their kids to school with a packed lunch have broken school guidelines, a YouGov poll for The Grocer and Bacofoil has revealed. Crisps, chocolate and biscuits are the most popular illicit food types.
With the dreaded 'lunch-box police' taking hold it's often easiest to sign up for school meals"
Sixty one per cent might disagree or strongly disagree with schools controlling what parents put in kids' packed lunches, but at the same time there is evidence guidance on fresh fruit is getting through: Kantar notes a rise in kids bringing fruit to school.
But kids could soon lose their lunchboxes altogether. Last year, a government review urged head teachers to ban packed lunches. Whether they will remains to be seen, but in September a new scheme entitling all four to seven-year-olds in the UK to free school meals will make a big dent in the market.
Despite long-term growth from 2007 to 2012, boosted by the recession, lunchbox consumption has stalled over the last couple of years and has now started dropping relatively rapidly.
This is partly due to the recovery in consumer confidence as we leave the recession. We saw a lot of consumers starting to use packed lunches as a way of saving money when times were tight, but we also know that consumers put "eating out" at the top of the list of things they would do if they had more money. Hence a short-term decline in the number of carried out lunch occasions (of 11% over the latest 16 weeks).
Brands remain particularly strong when it comes to packed lunches: 88% of lunchboxes contain at least one branded product, with Hovis and Warburtons sliced bread taking the top spots due to the prevalence of sandwiches.
However, despite these two brands being top, sliced bread is actually declining as a component of packed lunches, with consumers increasingly switching to rolls, thins, wraps and bagels instead.
Lucy Burton, Kantar Worldpanel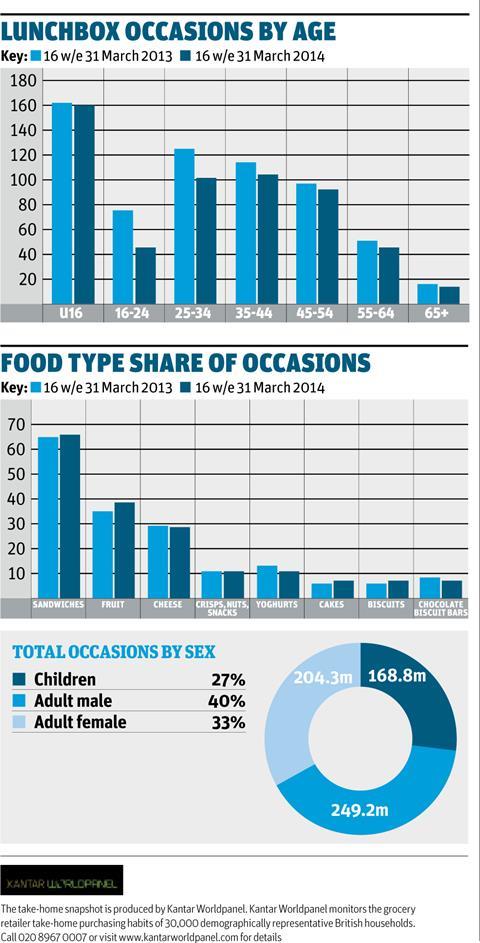 So what does all this mean for the future of the lunchbox? Are parents, as our findings suggest, really ignoring the healthy eating message or is something else going on? And what about adults' packed lunches?
There's no denying that lunchboxes are in a dark place. As a country, we packed our own lunches on 7.6 million fewer occasions in the four months to 30 March, a year-on-year fall of 10.9% [Kantar Worldpanel]. But perhaps surprisingly, given the scrutiny our kids' diets are coming under, children's packed lunches held up relatively well, down just 1.4%.
Many expect this decline to accelerate. "Finding the time to prepare healthy, nutritious and creative lunchboxes every day is tricky enough," says Philip O'Connor, founder of Elite Healthy Foods, whose brands include Yu! fruit snacks. "With the dreaded 'Iunchbox police' taking greater hold in schools, parents are under even more pressure. In many cases, this means it's easiest to simply sign the kids up for school meals."
Even more so come September, when a total of 4.3 million under-sevens will be eligible for free school meals. All schools are required by law to serve no more than two portions of deep-fried food a week and 'fizzy drinks, crisps, chocolate and sweets' are banned.
Healthier lunchboxes?
Guidelines stating packed lunches should not contain crisps, chocolate and biscuits are just that: guidelines. The many posts on parenting websites about confiscations of contraband foods suggest some schools are enforcing these as rules, as does the Daily Mail's February report of a six-year-old excluded from school for having a bag of Mini Cheddars in his lunchbox, though it's worth noting that the boy's school says he was kicked out for flouting many school rules.
"Research shows that over two thirds of kids will reject packs of sliced fresh fruit"
Such stories have doubtless affected some parents' attitudes towards perceived interference in our children's diets. But it appears government advice that every child's packed lunch should contain one portion of fruit or veg every day has had a positive effect: Kantar notes that fresh fruit appeared in 38% of lunchboxes in its most recent data, up from 34% a year ago. And children are eating much more fresh fruit in their packed lunches than the rest of us - 46% of kids' lunchboxes contain fresh fruit compared with 35% of mens' and 34% of womens'.
Dried fruit is also winning growing share of kids' lunchboxes as a result of the efforts of brands like Bear, which claims to have enjoyed value growth of 87% , adding £4m to the dried fruit category in the last year thanks to innovation such as Bear Paws. "Bear is in a format that kids enjoy, which is vital in schools as research shows that when presented with sliced fresh fruit packs, over two thirds are rejected by kids," says Giles Brook, a founding partner at Bear, which is owned by Urban Fresh Foods.
"Consumers want a familiar product that they like and want, rather than need"
Fellow fruit snack brand Humdinger says putting its Fruit Factory brand of Fruit Gummies, Fruit Combos, Fruit Wheels and yoghurt-coated Fruit Blitz pieces in multipacks in September 2013 means the brand is expecting to enjoy value growth of 16% in 2014 . Meanwhile, Yu! says its 100% fruit Just Fruit Chews, which are designed to look and taste like just like sweets, are becoming a hit with kids and adults alike.
Appealing to kids' tastes is key for parents when packing lunchboxes, says Elite's O'Connor: "For parents, the primary goal is to get their kids to eat and make sure they aren't coming home at the end of the day with uneaten food in their lunchboxes."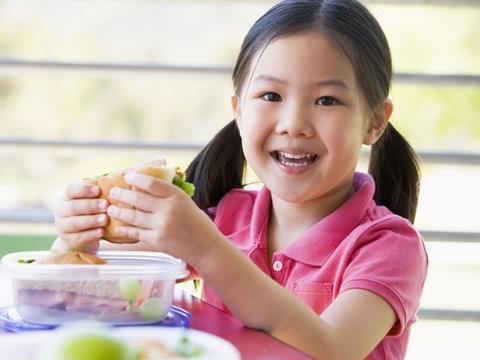 Cakes & biscuits
Which might help explain why Kantar notes a one percentage point rise in the appearance of cakes and biscuits in the nation's lunchboxes, as crisps, nuts and snacks' share of packed lunches has remained constant at 11%. Our own research supports this, with 54% of parents who admit to breaking school guidelines putting crisps in their kids' lunchboxes, 47% chocolate bars and 39% biscuits.
"Parents are seeking fun food & drink that contains the best ingredients for kids"
Of course, not all crisps, chocolate and biscuits are created equal and not all are 'unhealthy.' In recent years products and portion sizes have been reformulated to meet the requirements of parents and their kids, as well as deflect the ire of the health lobby.
For example, Premier Foods repackaged its Family Favourite cake slices including angel and lemon cake into single portion snack packs in September 2011 specifically to cater for in-school monitoring of sweet food in kids' lunchboxes, and says the range has so far generated sales of £31.5m, helped by the September 2013 launch of its Little Treats for Little Prices back-to-school campaign.
"Consumers want a familiar product that they like and want rather than need," says Jo Agnew, marketing controller at Mr Kipling. "Mr Kipling snack packs have achieved big success with 140 calories or fewer for the majority of the range. By creating a simple, nutritional and convenient solution for take-out consumption, mums are able to control their kids' consumption of sweet treats."
Mondelez followed suit in May by adding a chocolate portion-controlled single 30g bar to its Barny sponge snack range, launched in multipacks in April 2013. It is spending £4m advertising the brand in 2014 including TV.
As sweet treat brands cut calories by tinkering with portion sizes, savoury players are either cutting salt and fat content or launching entirely new, 'healthier' offerings to retain a place in our kids' lunchboxes. For example, PepsiCo has pledged to make 60% of its portfolio by volume 'healthier' by the close of 2015 with a particular focus on developing lower-fat versions of Walkers crisps. Walkers Baked Stars was the brand's fastest-growing variant in The Grocer's 2013 Top Products Survey [Nielsen 52 w/e 12 October], growing 18.2% by value. The February launch of Walkers Pops - air-popped crisps with half the fat of standard Walkers - is further progress to its 2015 target, says PepsiCo.
Lunchbox rules at school defied by parents says Grocer research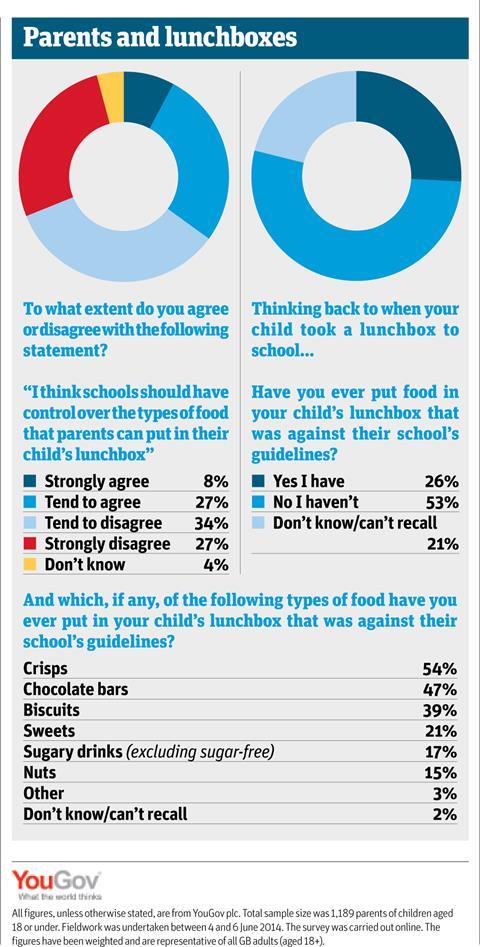 Parents are not pleased. More than a third disagree that schools should have control over what goes into their children's lunchboxes and 27% strongly disagree, according to a YouGov poll commissioned by The Grocer and Bacofoil.
More than one in four (see right) admit to breaking school guidelines on what constitutes a healthy lunchbox, with crisps, chocolate and biscuits the most popular contraband foods.
However, parents are not ignoring the health message altogether. While Kantar shows a one percentage point rise in the share of packed lunches with cakes and biscuits, those with fruit account for 38%, up from 34%.
"Parents are more conscious about what they put in their kids' lunch- boxes and in some ways more imaginative than ever," says Adrian Brown, MD of Bacofoil owner Wrap Film Systems. "Our products are being used for a variety of uses, such as wrapping vegetable sticks."
Or perhaps even the odd slice of cake or biscuit.
Crisps & popcorn
Smaller players are also looking to win more share of our kids' lunchboxes by playing the health card. Irish brand Veronica's Snacks entered the UK market for the first time in June with a nationwide listing in Tesco for multipacks of Crunchy Creatures baked cheese corn snacks (rsp: £1.99/5x15g bags), backed by a campaign aimed at school kids and their parents highlighting the importance of healthy eating.
"C-stores now recognise the importance of meal deals, which remove the need to pack lunch"
"Our potato and vegetable crisps have up to 60% less fat than regular crisps, lower salt and contain just 96 calories per serve," says founder Veronica Kenneally. "This makes them an ideal substitute to traditional high-fat crisps and snacks."
Popcorn is also proving an ideal substitute for crisps says Metcalfe's, which put its Skinny Topcorn in multipacks in May. "Although we have only just launched this product, sales have got off to a rocketing start and are already equalling the sales of our sharing bags in Asda and Sainsbury's," says Max Rees, sales director at Metcalfe's. "It goes to show that there is a real consumer demand with parents seeking healthier on-the-go options for the whole family."
It's not only smaller snack players that are looking for a bigger slice of the action, either. Start-up Rebel Kitchen launched a three-strong range of coconut water Mylk lunchbox drinks in January followed by a chocolate offering for adults in March and has just won a nationwide listing with Ocado.
"There is always room to get inside lunchboxes through innovation," says Tamara Arbib, founder of Rebel Kitchen. "The market is constantly changing with more parents actively seeking fun, new and exciting food and drinks that taste good but are also nutritionally beneficial and contain the best source of ingredients for children.
In April, premium yoghurt brand The Collective turned its attention to kids' lunchboxes with the launch of Suckies, lunchbox-friendly fresh yoghurt pouches, the first time the brand has specifically targeted the kids' market. In June, it jumped into the yoghurt drinks for the first time. "We are the fastest-growing yoghurt business in the UK and we're continuing to grow at 110% in value year on year," says Amelia Harvey, director at The Collective.
Bread
Whatever the food type, brands ignore the health lobby and lunchbox police at their peril. And with 65% of lunchboxes containing sandwiches - and 81% of children's [Kantar] - bread brands have been particularly responsive so far this year.
"As consumers have perceived white bread as a guilty indulgence value sales have fallen"
In March, Allied Bakeries launched Kingsmill Great White, a soft white loaf and rolls with as much fibre as a wholemeal equivalent backed by a £6.7m campaign. The product is designed to take the stigma out of white bread, explains Martin Garlick, category director at Allied: "For many consumers there is a real dilemma between what they want to do - enjoy white bread - and what popular culture tells them to do - eat less white bread."
In May, Allied launched Kingsmill Bagel Thins, a low-calorie 'less doughy' bagel, a product aimed to appeal to the health-conscious and cash in on the growing share of lunchbox that rolls, thins, wraps and bagels are stealing from bread [Kantar].
KP Snacks, The Collective, Kallo, Mrs Crimble's: lunchbox NPD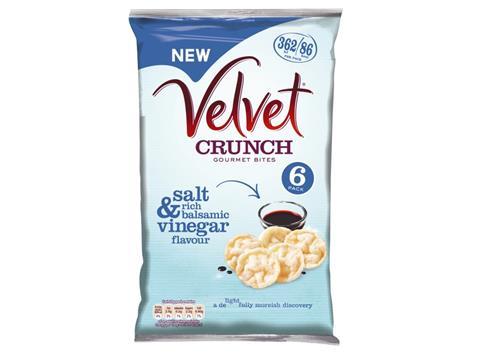 Velvet Crunch Gourmet Bites
Launched: July 2014 Manufacturer: KP Snacks
With sales of multipacks of crisps up but health also top of the agenda, KP Snacks is hoping to steal a greater share of lunchboxes with the launch of a three-strong range of cassava bites (rsp: £1.59/six-pack). Designed to tap the trend for lighter, popped snacks, the crunchy low-fat crisps, made from the root of the yucca plant, have fewer than 100 calories per 20g bag and come in mature Cheddar & onion, salt & rich balsamic vinegar and Thai chilli & aromatic sweet basil flavours.
The Collective Yoghurt Drinks
Launched: June 2014
Manufacturer: The Collective
Premium yoghurt brand The Collective is entering yoghurt drinks with a new four-strong range that combines exotic fruit, superfoods and grains with its live cultures yoghurt. The flavours are apricot & banana with oats & chia seeds, coconut, vanilla & honey, blueberry, cranberry & acai, and mango & blood orange (rsp: £1.79/250ml).
Strawberry yoghurt rice cake thins
Launched: June 2014
Manufacturer: Kallo
You can't get much healthier than a rice cake, says Kallo. With schools clamping down on lunchbox nasties, the brand is targeting parents of primary schoolchildren with Kallo Kids (rsp: £2.89/five-pack). The five serving multipacks feature two individually wrapped and portion-controlled rice cakes with jokes inside.
Mrs Crimble's Oat Cookies
Launched: May 2014
Manufacturer: Mrs Crimble's
After doubling its foodservice offering in the past year, gluten-free bakery brand Mrs Crimble's has launched two individually wrapped oat cookies (rsp: £1.49). The 60g biscuits come in sweet and chewy cranberry & almond and indulgent double choc chunk flavours, and promise to keep consumers 'satisfied for hours.'
Hovis is trying a different tactic, with the April launch of the more adult-orientated Taste Sensations flavoured bread range. "As consumers have begun to perceive white bread as a guilty indulgence, value sales have declined," says customer marketing head Tim Dummer. "Taste Sensations premium loaves are adding not only value but excitement into a category looking for inspirational new products to kickstart a new round of growth."
The sundried tomato, pesto and fiery red pepper flavours of the Taste Sensations range reflect the growing premiumisation in adult packed lunches. KP Snacks this month launched crisp alternative Velvet Crunch Gourmet Bites and Ritz is targeting discerning adults with the April launch of Ritz Breaks, multipacks of three crackers in original and rosemary & olive oil flavours.
The adult market has been crying out for innovation, says Rick Lawrence, biscuits marketing lead at brand owner Mondelez International. "We found that most convenient savoury products are either too boring, too 'naughty' or not filling enough," he explains. "This is an opportunity to take advantage of an untapped usage occasion."
Adults
Brands looking to break into adult packed lunches have their work cut out. As kids' lunchbox occasions dipped slightly, adult occasions dropped 14% [Kantar]. This is mainly due the economic recovery (Kantar says more of us began packing lunchboxes as the recession hit as a means of saving money) and competition from meal deals in retailers.
"Convenience retailers are now recognising the importance of lunchtime with meal deals removing the need for people to pack a lunchbox in the morning," says Steve Gregory, head of category management at Bel, which launched 'variety nets' containing 15 Mini Babybel cheeses in April (rival Kerry Foods is looking to appeal to kids with 'bonkersly brave' game cards free with Cheestrings).
"Most convenient savoury products are too boring, too naughty or not filling enough"
Hitting lower prices won't necessarily encourage busy shoppers to make their own lunch, either. "Research shows a 7.9% increase in spend on lunch per person in the last year, showing price is not the key driver of purchase," says Mav Howgego, head of commercial at premium pie brand Higgidy, which is launching sausage rolls in May (see left). Posh crisps brand Burts also claims to be winning growing share of adults' lunchboxes with its multipacks of six 25g bags.
Offering greater convenience could be a more effective way to steal share, says Coca-Cola Enterprises, which claims to have 'refocused' its Capri-Sun soft drinks for adult lunchboxes. Again, it has its work cut out. The 20 to 30-year-old age group it's going for with orange and apple & blackcurrant resealable pouch multipacks has seen one of the greatest declines in lunchbox occasions [Kantar].
Nevertheless, many agree convenience will be key to appealing to time-pressed adults. "One factor that remains constant is demand for products that make it easier to assemble a lunchbox in the morning," says Neil Brownbill, marketing director for Princes, which is adding a sweet Thai chilli tuna salad to its ambient Tuna Salads range this month.
Products with such clear adult positioning could well become more plentiful in the coming year as more kids are taken out of the lunchbox market. And the good news for adult brands is there's no lunchbox police to keep on side.
Higgidy, Kingsmill, Rebel Kitchen, Jacob's: Lunchbox NPD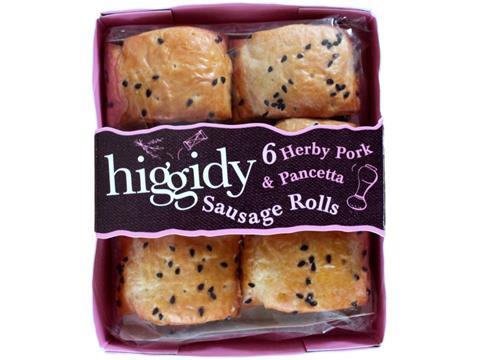 Higgidy Sausage Rolls
Launched: May 2014 Manufacturer: Higgidy
Premium pie brand Higgidy is targeting the lunchbox by extending into sausage rolls. The handmade range, available in Waitrose, Booths and Ocado, features two variants of pork sausage rolls, one with pancetta and one with roasted tomato, and a meat-free feta cheese and red pepper version (rsp: £2.49/six-pack). Because lunchbox products are usually eaten cold, Higgidy says it has "completely changed" its baking process as a business in order to create a crispier pastry ideal for a cold eat.
Kingsmill Bagel Thins
Launched: May 2014
Manufacturer: Allied Bakeries
Kingsmill Bagel Thins (rsp: £1.39/six-pack) contain just 122 calories per bagel compared with the 231 calorie standard white bagel. As well as being thinner than normal bagels, the sliced white thins are 'less doughy' to appeal to shoppers seeking a lighter lunch. In America, bagel thins are now almost 10% of the bagel market by volume.
Rebel Kitchen Mylk
Launched: January 2014
Manufacturer: Rebel Kitchen
Start-up Rebel Kitchen has launched coconut milk and water blends as a healthier alternative to juices and smoothies for kids. Dairy-free banana, chocolate and chocolate orange (rsp: 99p/250ml) are made with organic unrefined date nectar, Fairtrade cacao and Rainforest Alliance bananas with no added sugar or preservatives.
Jacob's Crispbread
Launched: January 2014
Manufacturer: United Biscuits
Jacob's mixed seed crispbreads are individually wrapped packs of four crackers with poppy and pumpkin seeds (rsp: £1.39/five-pack). Each lunchbox-friendly portion pack of crackers, which also come in chive and mixed grain variants, is equivalent to two slices of bread, and boxes come with an 'Ideal for Lunch' on-pack flash.