From 3D food printers to six-legged grub, food is getting futuristic. Find out what's on the horizon at this week's five William Reed food shows
The future looked pretty good in cartoon series The Jetsons. Firstly, they had flying cars. More importantly, there was a machine that could spit out whatever food you fancied in a matter of seconds. With today's fast-paced technology, this could soon be a reality (yes, we are now looking at using 3D printers to make our dinner). Yet there are also plenty of less techy trends that will shape how we eat in future.

The five William Reed shows at the NEC Birmingham over the coming week will cover everything that is set to influence our eating habits, from 3D printers to the next superfood. So what are the top trends worth noticing?

The most pressing influence on our nation's eating habits is health. In the era of the sugar levy and war on obesity, shoppers are placing ever more scrutiny on the nutritional information of what they're putting into their baskets. So it is the perfect breeding ground for the first trend in the list: personalised nutrition.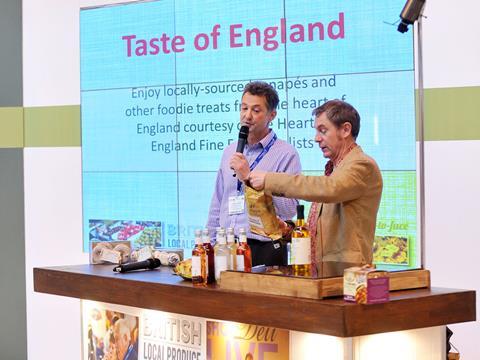 The Ingredients Show 2018
When : 16-18 April
Where : Hall 3, NEC Birmingham
Why : Join the biggest names in the food development industry for the launch of The Ingredients Show, William Reed's latest trade event.
From the lowdown on tiger nuts to an insight into insect grub, the packed live events timetable includes seminars, debates and demonstrations that will explain the trends likely to shape the industry this year.
Food colour experts GNT will discuss rising demand for Instagrammable food and give top tips on using natural colours to drive sales, while Steve Osborn of The Aurora Ceres Partnership will explain the art of combining consumer trends with future food technologies to create nutritious, functional and tasty grub.
As many mass market companies struggle to attain trust and authenticity in the halal sector, a panel of experts will discuss how to win over halal customers and whether the sector can reach 'mainstream' UK consumers.
And join IRI's Martin Wood to discuss what drives flavour trends, from evolving shopping habits and customer psychology to the effect of the sugar levy and product descriptions. Using EPoS market databases, Wood will dissect the biggest trends of 2017 and their origins, including the momentous rise of tonic, after being put back on the map by Fever-Tree and the rise of craft gin.
Tuck into insect snacks, learn about which consumer trends are shaping new formats in sports nutrition and watch as foods are printed live on stage by Foodini, the latest technology innovation from Natural Machines.
As well as live events, attendees will have the opportunity to meet top suppliers, new manufacturers and industry experts, including more than 100 international exhibitors showcasing products, innovations, services and equipment.
See, taste and learn about the foods and flavours set to inspire this year's NPD, while making and building on key business relationships in the first UK food and drink event to focus solely on the most vital part of food development: ingredients.
This doesn't necessarily mean ­everyone will get their own nutritionist (although it's worth noting Waitrose did offer a personalised service as part of a two-store trial earlier this year). Instead, it could be simply targeting foods at certain demographics, says Emily Foster, founder of nutrition and marketing consultancy Glowing Potential.

"A lot of people in the industry perceive personalised nutrition as a complicated, ­ominous topic, but it doesn't have to be," says Foster, who will host a session on the topic at the Food & Drink Expo. "Personalised ­nutrition can be as simple as highlighting specific food and drink products tailored for customers who want to lower their cholesterol, or who may want to lose weight."

In this nutrition-obsessed society, consumers are always on the lookout for something that can give them a hefty hit of vitamins, minerals and fibre. This brings Foster to the subject of her next session at the Food & Drink Expo: superfoods.

As consumers get savvier about what they eat, Foster expects to see more caution in the face of superfood claims. "Products labelled as being or containing superfoods could still be high in sugar or saturated fat. There are no parameters for what is or isn't a superfood," says Foster. "Are people aware that the 'superfood' they're purchasing may not be healthy? And if not, how can food businesses ensure they're being responsible?"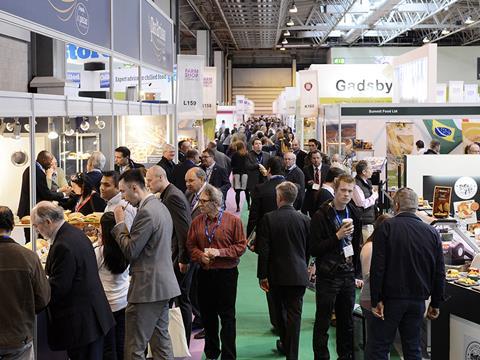 National Convenience Show 2018
When : 16-18 April
Where : Hall 1, NEC, Birmingham
Why : The essential event for convenience owners and buyers is back, with a packed live event timetable including seminars, Q&A sessions and debates. The lineup will look at everything from how to upsell and inspire customers, to the potential role of robotics in solving the emerging skills crisis.
The changing nature of the industry will also come under the spotlight. Following a turbulent 2017 that saw major deals between Tesco and Booker, plus the Co-op and Nisa, Convenience Store editor David Rees will lead a panel of experts including Booker managing director Steve Fox in a discussion on what all this means for convenience businesses and their customers. As the major networking event of the year, bringing together industry titans and hundreds of brands across the convenience market under one roof, the NCS is the place to build business relationships and gain the insight you need for the year ahead.
Just to prove the term isn't going anywhere, the tiger nut will come under the microscope as the next superfood in this year's Ingredients Show. Consumers are already going nuts for, er, nuts - as proven by Kantar Worldpanel data, which shows value sales have gone up 7.4% over the past year.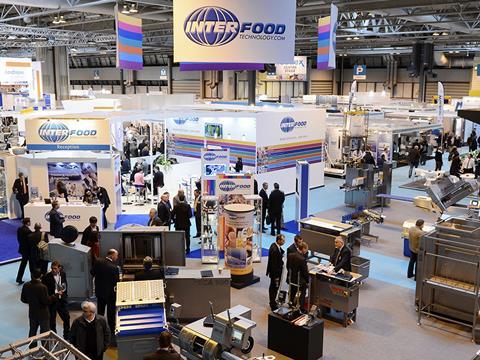 Foodex 2018
When : 16-18 April
Where : Halls 3 and 3a, NEC Birmingham
Why : As the UK's number one trade event for food and drink processing, packaging and logistics, Foodex brings together the latest innovations and trends across the industry. This year's jam-packed programme will keep you up to date with all the latest technological advancements in food manufacturing. Find out how emerging robotics could have the potential to streamline processes, improve product quality and even solve the skills crisis, uncover the world of the internet of things, or get to grips with how to perfect your supply chain and drive efficiencies. Plus, make sure your packaging is meeting growing demands for traceability and transparency in the industry and understand the role of the Grocery Code Adjudicator. With over 500 suppliers set to exhibit, the event is an unmissable opportunity to create and develop relationships, as well as to view the latest products and technologies that are shaping the food industry.
The tiger nut has something different to the rest of the market, though. Firstly, it's not a nut. It's actually a nutrient-dense root ­vegetable, says Ani de la Prida, co-founder of The Tiger Nut Company. And not only does it provide a gluten-like texture to various foods, but Prida says it can also work as a milk alternative, making it perfect for the growing free-from crowd. Add to that the tagline of promoting 'good gut health' due to high levels of prebiotic fibre, and tiger nuts could well be a 'superfood' worth the label.
A six-legged meal
Another emerging food is insects. Raphaelle Browaeys, communications manager at insect food producer Jimini's, is confident insects can hit mainstream retail in 2018. As a fellow speaker at The Ingredients Show, she will make the case for a six-legged meal.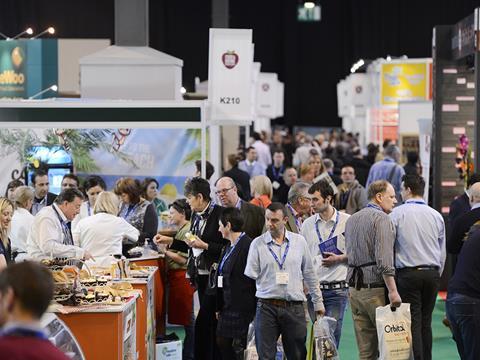 Food & Drink Expo 2018
When : 16-18 April
Where : Hall 2, NEC Birmingham
Why : Take a look at the latest products, innovations and technologies in food and drink across a range of sectors and countries at the Food & Drink Expo. Taste the latest flavour trends, meet industry experts and gain unique insights over the three-day event, as well as mingling with some of the biggest and newest suppliers and brands. The live event timetable spans a celebration of the best in Welsh cuisine (including samples), emerging UK wine trends with 'The Wine Tipster' Neil Phillips and Pimp My Cheeseboard, featuring chef Fan Kenny and food writer Patrick McGuigan's mission to revolutionise cheese platters, inspired by a new wave of cheese restaurants in the US. From using storyboarding to best effect with media experts Digital Blonde to getting code confident with Groceries Code Adjudicator Christine Tacon, the Food & Drink expo provides you with the information you need for success in 2018.
Not only are they more environmentally sustainable than meat, she stresses they have numerous health benefits and are relatively cheap to produce. So if can consumers get their heads around the ick-factor, they could be next on the nation's menu.
Sustainability more generally is another major trend shaping the food ­industry. Whether we're talking food waste - a hot topic at the Food & Drink Expo and the Farm Shop & Deli Show - or actual waste, discussed at the National Convenience Show, the environment is shaping all corners of food and drink. Take the coffee industry, for example. At Farm Shop & Deli Live, Monkshood Coffee owner Elliot Wallis will talk about the increasing need to be sustainable - from sourcing the coffee beans to the cups it's served in. "Customers want to feel like they are buying a product that reflects their values, from an ethical, eco-friendly retailer or brand," he says.

And he believes consumers are increasingly willing to pay a premium for sustainable, specialty coffee (which he will be handing out samples of during the show). "Farm shops and delis are ideally placed to utilise craft ­coffee to grow profits," says Wallis. "The USP of speciality, artisanal retailers will always be quality over price, and customers are more willing to pay extra for a great product."
Changing face of convenience
Another thing consumers are willing to pay more for is convenience. It's been a long-standing trend, and it's the ideal backdrop for this year's National Convenience Show. But what consumers are looking for from this format has been slowly changing.

In years gone by, the local c-store was the place to pick up a Mars bar and a can of Coke. To cater for today's more health-conscious consumer, retailers will offer more of the innovative types of foods listed above. Not only does that mean offering healthy ­food-to-go options - already done expertly by some retailers such as Simply Fresh - but snacking sections will need to go beyond confectionery bars to include healthy options such as protein bars and nut-based treats (or even insects, perhaps).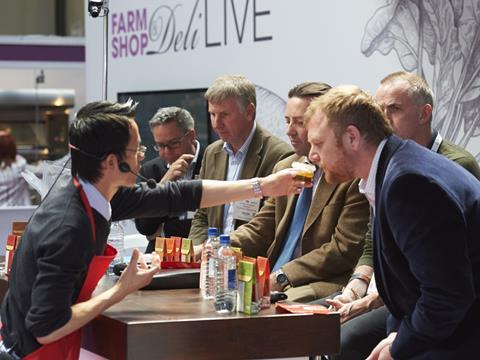 Farm Shop & Deli Show
When : 16-18 April
Where : Hall 1, NEC Birmingham
Why : This is the main industry event for those wanting to keep up to date with the latest news, trends and products in the specialist retail sector. Over 450 companies from big brands to smaller, artisanal producers will attend over the three-day event, making the show a vital opportunity for any industry member looking to form new business relationships or strengthen existing ones. As well as hosting a wide range of exhibitors, the show will include an events programme designed to provide all the information needed for a business to thrive in speciality retail in 2018. Featuring expert insight, lively debates and topical discussions ranging from boosting beer sales and sustainability to rethinking retail through smart integrations, the programme also hosts the annual Farm Shop & Deli Award Finals, showcasing the best and brightest retailers across the sector.
In the more distant future, consumers may skip the convenience store altogether for the ultimate quick fix: printing their own snacks. At The Ingredient Show, tech ­company Natural Machines will present Foodini, the 3D food printer.

Hailed as one of the top seven tech ­superheroes to watch by CNN, the printer will produce food live on stage as company ­co-founder Lynette Kucsma and engineer Victor Delgado explain how it has the ­potential to change the industry.

In the shorter term, we could see technology enabling us to cryogenically freeze ready meals and the internet of things disrupting the traditional supply chain, as speakers at Foodex will explain.

So there's no shortage of change at this year's William Reed shows. You may not be eating an insect-based, cryogenically frozen ready meal next to your 3D food printer just yet, but the future isn't far off.