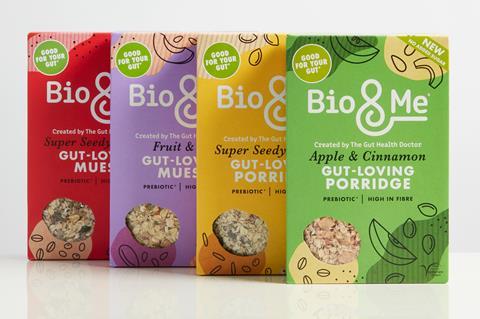 Gut-friendly granola brand Bio & Me is adding a range of porridges and mueslis to its lineup.
The brand, co-founded by gut health expert Dr Megan Rossi, has unveiled four new products – two porridges and two mueslis – set to roll out in the new year.
Rossi told The Grocer: "There just really isn't a product out there that I would recommend to my patients as being really good for your gut health".
She said what was available either had added sugars or was "just oats, maybe with a bit of cinnamon".
Bio & Me's ranges would provide a "diverse range of plant-based ingredients", said Rossi, of which the porridges contain 14 and the mueslis 16, such as nuts, seeds and grains to fruit & veg such as carrots.
"What we see in terms of scientific evidence is that people with better gut health have more diversity of plants in their diet and therefore get a variety of plant chemicals which feed the good bacteria," said Rossi.
All four products – Apple & Cinnamon Porridge, Super Seedy & Nutty Porridge, Fruit & Nut Muesli and Super Seedy & Nutty Muesli – will launch at Booths and Planet Organic next month, priced at £3.75 for the porridge and £3.99 for the muesli (both 450g).
Both new ranges will feature the European Food Safety approved Good for the Gut health claim, in line with its granola products.
People's awareness that "immunity and gut health go hand in hand" had increased, said Rossi, leading to the brand "smashing our goals" at its current retailers.