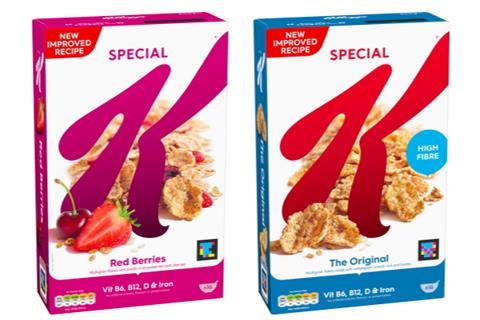 Kellogg's has slashed the salt content of its Special K brand.
The cereal giant has cut the salt across the seven-strong Special K range by an average of 19.8%, meaning five SKUs have now become non-HFSS.
The reduction was achieved with the use of "techniques that take into consideration how people's taste buds react to flavours to change the recipe, reducing the amount of salt but managing to keep the flavour the same", said Kellogg's.
"Salt is used in cereal not only to add flavour, but also to enhance other ingredients so even the slightest recipe change can make a difference to taste."
To create the recipes, Kellogg's added new equipment to the Special K production process at its factory in Wrexham, North Wales.
Kellogg's said it tested the new recipe with shoppers, of which 59% said they preferred the new recipe.
The business was "committed to making the best quality food and helping people to make better choices in the morning", said its wellbeing lead Catherine Logan, adding the reformulation process had taken 12 months to complete.
It marks the latest in a series of moves from Kellogg's to make its range of cereals healthier as the HFSS clampdown looms, including slashing salt and sugar from the range as per today's news, and launching new non-HFSS cereals such as a trio of Wheaties flavours, which rolled out in October 2021.
Over the 52 weeks to 11 September 2021, Special K's supermarket value was £47.5m - although this was down 5.5% on the previous year, equating to a £2.7m dip [NielsenIQ].