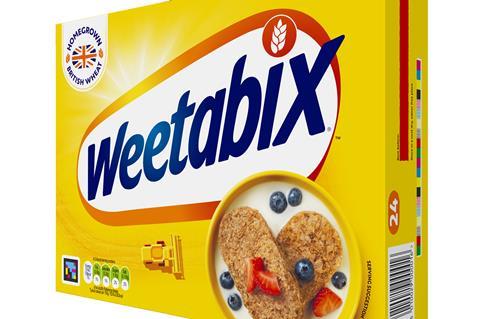 Weetabix has unveiled new-look packaging, which champions its use of home-grown wheat sourced within 50 miles of its Burton Latimer mills.
The cereal giant has also launched a traceability website featuring an interactive map of the 50-mile radius, allowing shoppers to find out more about the farms within the Weetabix Growers Group.
It includes information on environmental initiatives such as regenerative agriculture, renewable energy, and the reduction of greenhouse gases.
Weetabix Original 24-packs and 48-packs have already transitioned to the new-look packaging, with additional Weetabix SKUs to follow later this year.
They feature a NaviLens code, in association with the Royal National Institute of Blind People, allowing blind and partially sighted shoppers to access the traceability website.
The packaging updates were based on "extensive testing" and aimed to change how shoppers engaged with the brand, said Weetabix.
This was "an exciting time for us as a brand to really start talking about our impressive wheat sourcing credentials", said Weetabix brand manager Ginni Farbon.
"We've made huge strides in terms of sustainability in the past year in general, and will be looking to continue this great progress, with more details in our 2023 sustainability report to be released in October."
"Minimising food mileage should be a sustainability goal for every food brand," Farbon added.
It comes after Weetabix kicked off a partnership with Disney in June to mark the entertainment conglomerate's 100th anniversary.
Weetabix rolled out limited-edition pack designs for Multigrain Hoops, featuring various beloved Disney characters – from Mickey Mouse to Frozen's Elsa.