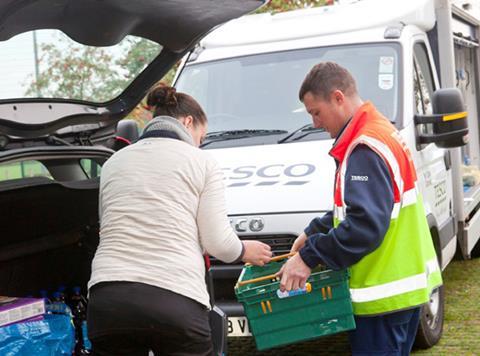 Tesco and Sainsbury's have reported a rise in click & collect Christmas orders this year, with almost all slots taken.

Having opened 100 more same-day click & collect sites in August, Tesco reported a 18% year-on-year increase in orders over the past eight weeks. There are now only a "very limited" number of slots available.

Sainsbury's also said it was "absolutely seeing an increase in demand" after increasing its number of collection points by 40% this year. Its click & collect slots for this week are "nearly all gone", a spokeswoman confirmed.
But the rise in usage hasn't been without its problems, as the national media today reported that Sainsbury's customers were being told to collect orders from the wrong stores due to a technical glitch.

Both supermarkets have made it clear that click & collect will form part of their future strategies.

Tesco first trialled its same-day click & collect service in 200 stores last November and now has 300 sites, including 36 non-store locations. The supermarket decided to charge for same-day service back in August, setting prices at £2 from Monday to Thursday and £3 on Fridays. Next-day services are free of charge.

Sainsbury's plans to have 200 click & collect sites by next summer and it is trialling a same-day delivery service, which carries a £2 charge.

Click & collect also looks set to become a crucial part of the Argos tie-up - Sainsbury's chief executive Mike Coupe wants to put an Argos concession or click & collect point in all stores.