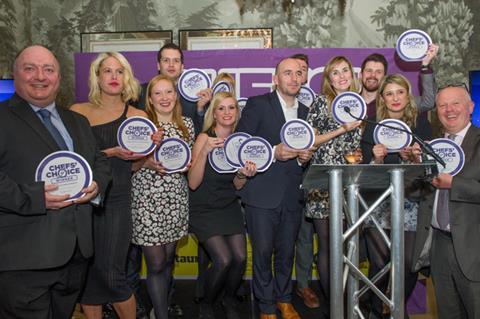 There are just two weeks left to get your entries in for this year's Chefs' Choice awards.

Chefs' Choice is now in its second year and was created by The Grocer to showcase the very best of what the foodservice sector has to offer.

Foodservice suppliers and operators have until Monday 20 November to enter their products into the competition, which will be prepared and judged by chefs for chefs.

The awards, in association with Food Innovation Solutions and Good Sense Research, will test foodservice products developed by wholesalers and manufacturers across 27 categories including Cheese and Dairy Products; Finished Desserts and Gateaux; Preserves; Vegetarian Ready Meals and Portions; and Hot Beverages - to name but a few.

These awards are judged by chefs for chefs; they are easy to enter and will provide a mechanism for all suppliers - fresh and frozen, chilled and ambient - to secure standout and gain extensive positive marketing exposure to gain new customers and reinforce existing relationships.

Chefs' Choice will independently validate product quality, value and taste and will enable all of the category Winners, Highly Rated and Finalist entrants to use - for free - the high-profile logo endorsement supported by The Grocer, Restaurant, The Morning Advertiser and Food Manufacture media brands.

You will need to enter a finished food product that is ambient, chilled, fresh, frozen or part-baked to take part. Chefs will prepare the products in a professional kitchen following portion guidance and recommended prep, serving suggestions and cooking times. A specially selected panel of chefs, nutritionists, food technologists and development chefs will put each entry through its paces on a stringent range of agreed criteria.

● To enter, visit chefschoiceawards.co.uk/award-categories/