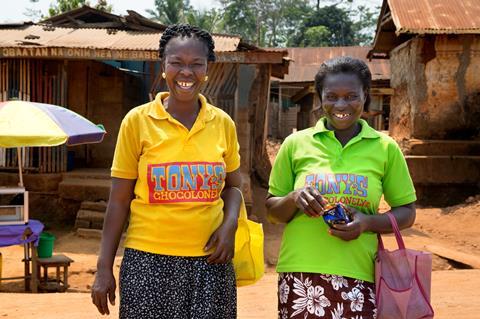 Tony's Chocolonely is to instate a governing structure that aims to "forever protect" its mission of making chocolate "100% slave-free".
It is to introduce a 'golden share', a legal share in the company that includes voting rights and allows selected individuals to prevent any legal changes to the definition of the company's mission and sourcing principles.
Three 'mission guardians' with the privilege of the golden share will oversee the structure. They are: Honest Tea founder Seth Goldman; lawyer turned broadcaster Ikenna Azuike; and former chief of impact for Tony's Anne-Wil Dijkstra.
Goldman will chair the 'Mission Lock', bringing his "extensive experience in growing mission-led companies with a range of public and private shareholder structures" to the role, said the brand.
All three guardians will have access to several "escalation levers" to hold Tony's leadership team to account publicly and judicially.
Any stakeholder – including employees, cocoa farmers, business partners and fans – can raise concerns anonymously with the mission guardians via email.
Investigation
In circumstances where any issues are not resolved, the mission guardians have the right to escalate the concerns publicly via a double-page spread in the company's annual FAIR report, through international full-page newspaper advertisements in each of the major markets that Tony's is active in and, ultimately, by referring the matter for legal investigation and arbitration at the Enterprise Chamber of the Court of Appeal in Amsterdam.
Tony's CEO Douglas Lamont and all three mission guardians will sign the structure's formation document live at the business's annual stakeholder meeting, FAIR, on 8 June in Amsterdam.
They will discuss what the Mission Lock will mean to Tony's mission and that of other impact companies during a live Q&A.
Mission Lock is the brainchild of Lamont, who wanted to reassure retailers and partners that the brand's values wouldn't become "diluted".
It was a "unique" initiative among fmcg businesses and "another example of Tony's raising the bar", Lamont told The Grocer.
"A growing number of purpose-driven companies are looking for ways to secure their impact models at the core of their business permanently and irrevocably, independent of shareholder structure," he said.
Lamont added he hoped the Mission Lock would "act as an inspiration for others to look more closely at what they can do to secure their mission too".