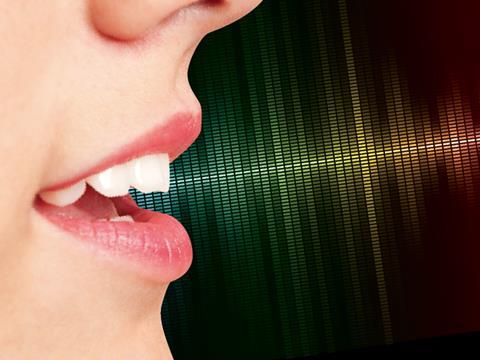 Captain Kirk used it. Knight Rider would have been lost without it. Even futuristic cartoon family The Jetsons dabbled in it. Voice command technology has long been considered a marker of the future, and now it has officially landed in our homes. According to Google, 20% of all searches are now conducted via voice, facilitated by a surge of sophisticated devices such as Amazon Echo and Google Assistant, as well as Apple's much-anticipated launch later this year. By 2021 Kantar estimates there will be 1.8 billion consumers using AI voice assistants globally.
Spotting this huge potential, grocers are increasingly keen to capitalise. Amazon (predictably) was the first to market by linking up its AmazonFresh grocery service to Alexa-enabled devices in 2016. Now Tesco, Ocado and Walmart have got in on the act – a strong indication this is more than just a passing fad.
So how could voice tech change the way we shop? And how can grocers make the most of it?
Voice technology for grocery shopping is very much in its infancy. Tesco's link-up with Google Home was first unveiled in May and remains a pilot project, while Ocado's app on Amazon Echo was only unveiled last month. Even voice ordering on AmazonFresh is in its early stages, having launched in late 2016. For Jon Buss, managing director of digital knowledge specialist Yext, it is little more than a "gimmick" at present.
That all looks set to change, though, as Amazon and Google relentlessly push their voice assistant devices. Amazon heavily advertised Echo on Prime Day in August, it has offered discounts for shoppers who use it to place orders, and has even strategically placed the products in its newly acquired Whole Foods Market stores. Plus, the upcoming launch of Apple's HomePod will only further whet appetites. "Certainly within the next five years these devices will become central to every home," says Buss. "They will connect all your devices, central heating and music, and people will start using them for grocery shopping."
Online grocery might only account for 7.3% of UK grocery spend, according to Kantar. And even if this figure is tipped to grow significantly in the next five years (IGD pegs its 2022 value at £16bn) it will still represent the minority of grocery shopping compared with bricks & mortar, with voice orders a further fraction within that. But even retail experts independent from the technology industry believe voice is a trend worth tracking.
'Pizza please, Alexa'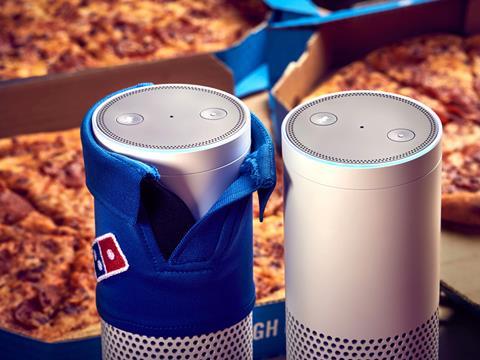 It isn't only grocers cashing in on the possibilities of voice technology. In July Domino's launched its Ding Dom Domino's voice ordering app on the Amazon Alexa device. Not only does it allow consumers to order via voice, it also includes GPS delivery tracking so they know exactly how far away their pizza is.
It follows a similar pairing between the device and digital platform Just Eat in October 2016, which allows users to re-order meals from their favourite takeaway. "The problem of having to understand a particular way of communicating will fade away, and the experience will be as natural as going into a restaurant and asking: what should I eat today?" says Just Eat chief technology officer Fernando Fanton. "We are not far from that reality."
Natalie Berg, analyst at Planet Retail, believes it represents a "huge opportunity" for grocers. "Online supermarkets, in particular, can't afford to miss the boat on voice," she says. "It's not a game-changer for the grocery industry on its own, but it is an extension of what's already out there like one-press Amazon Dash buttons and Ocado instant shopping, where they automatically add your favourites to your basket."
How exactly voice technology will be used is a murkier area, though. It seems unlikely shoppers of the future will sit down every week to dictate each item of their family shopping list into a speaker. This is, perhaps, why Ocado's Alexa 'skill' isn't designed to take new orders, but instead to amend existing ones. Buss believes people will instead use the technology to add items to their basket as and when they remember, rather than writing a list. "It will be that I'm in the kitchen and have run out of butter, and I'll just say to the speaker, 'Add butter to my shopping basket,'" he forecasts. Interestingly, this was exactly how Amazon initially marketed its voice-activated shopping device, the Amazon Dash Wand, last year – as the death of the shopping list.
Voice technology could also help shoppers order a small number of groceries, fast. One-hour delivery services Tesco Now and Sainsbury's Chop Chop are designed exactly for this – they only accept orders for up to 20 items – so it is easy to envisage dictating a short list of urgent groceries into your speaker. "I do see this linking into this whole thing of immediacy," says Buss.
Victoria Gustafson, a tech expert at global digital commerce agency Astound Commerce, believes artificial intelligence needs to become more sophisticated to really grab the attention of these shoppers. "To me, the biggest goal here would be for someone who realises they don't have anything for dinner to be able to say to their assistant, 'Deliver something for dinner'. And it will be there in an hour. Right now the technology isn't ready for something like that," she says.
Creating the ultimate in convenience has been a reason cited by all the grocers that have adopted the technology so far. Walmart said its partnership with Google was all about making shopping "faster and easier". Ocado's head of marketing Thomas Thomaidis says voice feels far "more natural" than sitting down at a computer and typing in search terms. Tesco wanted to make life "simple and convenient" for customers.
But this convenience comes at a cost. First there is the material cost of indexing all products and making them searchable by voice. Buss, whose company conducts this work on behalf of retailers, says it is a "massive task" to structure an entire catalogue of data appropriately. Not least as you have to make sure you understand the range of search terms customers will use by voice and match these with the right products. It's a skill that Ocado took months to develop with Alexa, Thomaidis says. "The challenge here was understanding language variety and intonation," he explains. "That's much more of a problem to solve than typed searches." As Thomaidis points out, you've "got to get it right" or risk alienating the consumer.
Even when the technical task is complete, there is a potential cost from changes to shopper behaviour. Brands could be the first casualty. Programs such as those from Walmart and Ocado base their shopper suggestions on past behaviour. If you ask your voice device to add cheese to your shopping basket, it will suggest adding the cheese that you normally buy. Alternative suggestions will only be made if it is unavailable. For items such as luxury chocolate, you may specify the brand. But you are unlikely to do so for commodities such as toilet paper. That is where the danger emerges. "In the case of dishwasher tablets, the retailer's app may select your past brand or just select the cheapest product," says Buss. "It will become very commoditised, and brands will have to do a very good job of advertising to get their names out there."
This could play into the hands of own brands, says Tom Ollerton, innovation director at digital agency We Are Social. "Consumers might ask for 'buy the cheapest toothpaste' for example, rather than saying 'buy Colgate toothpaste'. This could be frustrating for FMCG brands, who would have to market their products to algorithms and not the end user."
There are also the difficulties in promoting NPD. Getting shoppers to stray from normal patterns has been hard enough in typical online shopping, where retailers can flag up promotions on the home page and use images to encourage new purchases. In the world of voice technology, none of these visual tools are available. Ocado has aimed to address this by adding a function that will tell shoppers what is in season, and suggest recipes for those ingredients. But that only works if shoppers proactively ask 'what's in season?'
"The two-way conversation involved in voice technology is crucial to gaining insight into a customer's retail habits"
Astound Commerce's Gustavson says technology companies and grocers have plenty of work to do in this area: "Retailers still need to figure out how to encourage basket building. If you go into a store for milk, chances are you don't just walk out with milk. This opportunity to encourage impulse purchases when you place an order by voice is very limited. Retailers need to think of ways to build shopper baskets by offering relevant items by voice without alienating shoppers."
But if retailers can get it right, the rewards could be plentiful. Tim Mason, CEO of grocery and retail technology company Eagle Eye, says grocers stand to learn much more about their customers. "The two-way conversation involved in voice technology is crucial in gaining insight into a customer's retail habits," he argues. "Rather than predicting relevant products for customers based on previous purchases, companies could identify exactly what a customer was looking for, down to the exact words they spoke in their search."
And the danger of failing to take advantage of this is huge. More than seven in 10 Amazon Echo owners – the market leader by far – have bought something using the device and 45% have done so repeatedly, according to messaging solutions company LivePerson. Given over half of all Echo devices sit in shoppers' kitchens, the opportunity for grocery is clear. And as Amazon strengthens its foothold through Whole Foods, the threat to traditional supermarkets is starkly apparent.
Experts believe it is vital for rivals to get into the voice arena before Amazon's dominance becomes irreversible. Euromonitor hailed Walmart's partnership with Google as a crucial way "to avoid a winner-take-all scenario in voice commerce". Rurik Bradbury, global head of communications and research at LivePerson, says the domain represents a "major new battle" for grocers and "companies need to move quickly".
Ironically, becoming Amazon's partner may be a clever way of fending off the threat. Ocado raised a few eyebrows when it developed its program for Amazon's Alexa system, but Thomaidis sees it as a natural way of harnessing its rival's leadership position in this field. "Amazon has a variety of services and this one is very separate to AmazonFresh. This is about making sure we do things customers want," he says.
Walmart and Tesco have partnered with Google instead, which currently has less share but is tipped to grow. Forging an agreement with any external partner will carry some risks, though. Hugh Fletcher, global head of innovation at digital commerce consultancy Salmon, says "retailers need to be wary that without interfaces consumers have less exposure to a brand's personality. While Walmart is undoubtedly right to get into this space early, for the sake of its future we must hope it has also considered its strategy for Walmart brand loyalty, or face becoming a tier-two retailer accessed via an interface that isn't owned by them."
Voice technology is certainly fraught with pitfalls. But in an era of increasing consumer expectations, it is becoming a vital consideration too – especially for grocers that want to lead online. These retailers need to carefully consider the implications of voice. Otherwise Amazon may just have the last word.
Which grocers are teaming up with voice tech?
Amazon Dash and Echo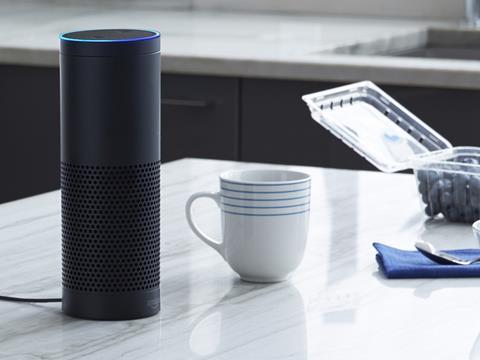 First to take the plunge was Amazon last August with its Amazon Dash. The device, designed only for shopping with Amazon, had a wi-fi speaker that would add items to your basket when given the command. The arrival of much more sophisticated Amazon Echo devices have made it somewhat redundant, though. And in the latter half of 2016 the retailer linked up AmazonFresh to its Alexa-enabled Echo products instead, to which shoppers can issue basic commands such as "Alexa, add smoked salmon" or more complex ones such as "Alexa, what is 5oz in grammes?"
Tesco/Google Home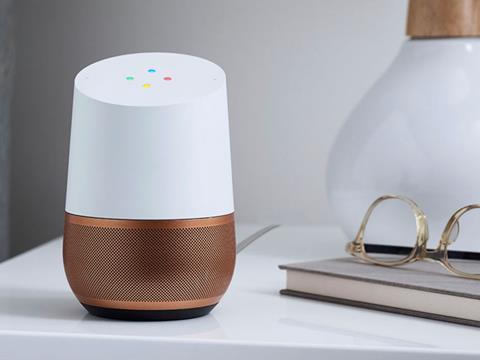 The partnership between Tesco and Google Home is currently on a small scale. Launched in May, the initiative was designed to test reaction among early adopters, and voice capabilities are only open to customers who have signed up to its platform on 'If This Then That'. Using Google Home these customers can place orders by issuing commands like "add milk to my basket" or "buy eggs". Tesco says feedback has so far been "positive" and believes it could work for "essentials such as milk and dishwasher tablets" rather than less commoditised ingredients.
Ocado/Alexa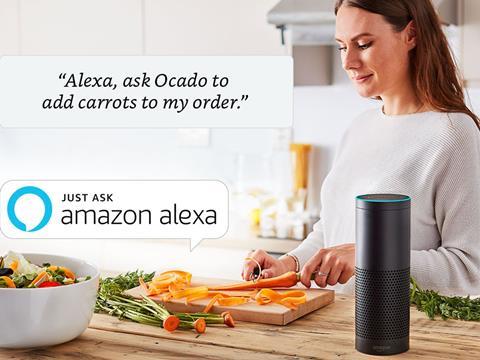 After months of hints, Ocado finally launched its voice command service in August. The Ocado 'skill' on Amazon Alexa is one of the most sophisticated out there, enabling shoppers not only to amend orders but also to ask what's in season and request related recipes. The app recognises the 15,000 most commonly searched terms on Ocado's site and uses an AI-based algorithm to suggest products customers are most likely to want, based on past preferences. Plus, customers who have placed an order will simply be able to ask "where's my order?" to monitor progress.
Walmart/Google Home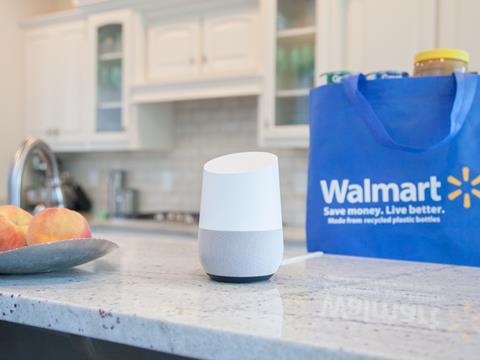 Never one to be outdone by Amazon, Walmart is set to launch its own voice feature on Google Home this month. It promises to offer hundreds of thousands of items via voice command in a bid to make shopping "faster and easier", with shoppers offered recommendations based on previous purchases. Google is helping to push the system by offering free delivery on voice orders above the store minimum ($25). And next year Walmart aims to go one step further by linking up voice orders with its in-store click & collect system too.