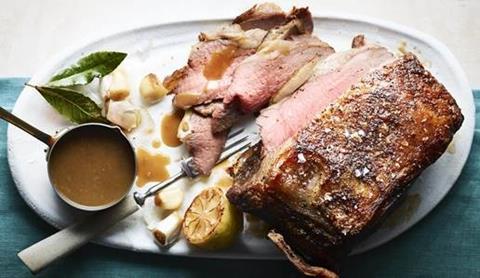 Waitrose has published its latest Food & Drink report, the supermarket's annual delve into changing consumer habits and the biggest trends impacting the sector. So, what does it reveal in a year like no other?
Brexit
Anyone fearing a UK-US trade deal could come at the expense of UK food standards may find reassurance from the shoppers polled by Waitrose. With the end of the Brexit transition period looming on 1 January, many are ready to double-down on their support of British produce and standards.
The poll of 2,000 people across the UK of "all ages", including non-Waitrose shoppers, found more than half would only buy meat from British reared animals in the event of a trade deal with a country outside the EU. Meanwhile, searches for British produce on Waitrose's website have risen 160% amid trade negotiations, according to the report.
Animal welfare is a growing concern too. Online views of Waitrose's animal welfare commitments have surged 1,530% since the "peak of trade negotiations," the report says.
A fear for UK farmers is having to compete with meat produced to lower standards, and therefore more cheaply – but two-thirds in Waitrose's poll said firm assurances over food safety and welfare are more important than price.
Almost half of respondents plan to buy more organic produce if the government strikes a deal with a country that uses more pesticides than the UK.
"The appetite among the British public to support homegrown produce is high – standards and value are no longer an 'either/or' but part of the same package," says Waitrose executive director James Bailey in the report.
Shoppers also expect retailers to support British producers post-Brexit. Almost three-quarters (74%) said they want to see more UK food businesses show ongoing support for British suppliers, while 60% are concerned the UK's food standards will fall and want to see them protected.
Shopping habits
As anyone who has battled to secure a delivery slot this year will know, we are shopping more online. Waitrose's poll found around three-quarters now do at least some of their shopping online – up from 61% in 2019.
Online first-timers were most likely to be under-35s, suggesting they are not necessarily the "digital natives" society assumes, according to the report. One in three in the age group bought food online for the first time this year, compared to one in four across ages. Amongst over-55s, only one in five made their online food shopping debut in 2020.
The report also notes the rise of convenience and local shopping in the pandemic. Searches on UK-wide social media for 'local shops' are up 179% on last year. The poll found 70% of those who used local convenience stores to 'top up' their shopping during the crisis would maintain the routine.
But booming convenience is not at the expense of the big weekly shop, which is making a comeback, according to the report. The poll found frequency of food shopping had fallen since 2016. The proportion of people who said they shopped for food two or three times a week in 2020 was lower than four years ago, at 35% compared to 51%. Likewise, fewer people food shopped daily, at 4% in 2020 compared to 7% in 2016. Conversely, the number food shopping once a week was up, at 47% in 2020 compared to 35% in 2016. So was the number doing it fortnightly, at 10% compared to 4%.
According to Waitrose the question was simply "How often do you shop for food?", so answers would emcompass online.
Jane Orchard, manager, store innovation at Waitrose, comments: "Many people are discovering the benefits of the weekly shop again. Many have found the benefits of this more thoughtful approach to planning food – such as cutting waste or saving money – meaning the habit may stick."
Homeworking
With restaurants closed and more time in our kitchens, we've become a nation of experimental cooks.
Over half of consumers have attempted and will continue to try new recipes, cooking styles and ingredients, the poll found.
Meanwhile, evening dinners have become the next day's lunch as we try to maximise value and cut waste. Seven in 10 homeworkers said they sometimes ate last night's leftovers for lunch.
Without the need to travel, cooking has become the "new commute", according to the report, providing a ritual that separates work life from home within the same four walls. Some 74% of those polled said cooking provided a break between 'work time' and 'home time'
We're also thinking about food more, the report says, with 53% of respondents having planned meals more carefully in the pandemic and intending to carry on in the same vein.
"Many people have been able to cook and eat dinner together more regularly this year, something we have often dreamt about, and will be reluctant to go back to a daily commute," says Natalie Mitchell, Waitrose director of technical, quality, innovation and supplier management.
The poll found 58% agreed with the suggestion that they were secretly a bit happier to not have to go out as much.
Health and happiness
The global health crisis has naturally pushed our own physical and mental wellbeing up in our agenda of concerns.
Almost 70% felt more of a need to keep up their mental and physical wellness now than before the pandemic. Nutrition has been a key focus too, with searches for high fibre recipes on Waitrose.com up 230% and high protein up 330%.
Other trends include foraging, which took an 89% leap in interest, measured through social media searches. The activity ticks all the boxes – leaving the house, keeping children occupied and sourcing food, alongside an element of nostalgia, according to the report.
Asian products, slow-cooked meat, organic produce, preserving and fermenting, British seafood and barista-inspired coffee have also been a hit.
Boozy trends
The low and no alcohol drinks craze is showing no sign of slowing, and searches are up 22% year on year. Some 18% of consumers plan to try more low and no drinks to reduce alcohol consumption, rising to a third among 18-24 year olds.
As for future trends, Jamie Matthewson, wine buying manager at Waitrose, predicts retro favourite sherry will fly off shelves in 2021, as will English and Welsh wine, flavoured vodkas and spritzers.
Other findings:
Just over four in 10 (41%) of shoppers want to see supermarkets do more to cut food waste, with three-quarters saying they would like to see suppliers use surplus food to help tackle food poverty.
Three-quarters said they feel ashamed when they waste food, and as a result, 77% tried not to waste food over the pandemic. Of these, 83% want to carry on doing so post-Covid.
A third of shoppers grew their own food during England's first lockdown, and will continue to do so.
60% of those who got involved in their local communities over lockdown intend to carry on.
68% of people would like to see the government invest more in agricultural innovations.
28% of car owners have reduced, or plan to reduce, cars in their household since the coronavirus outbreak.
Almost half (48%) of consumers have gone cashless through the pandemic and plan to continue doing so. Just 10% of transactions in Waitrose stores are now conducted using cash, down 12% on 2019.
61% are worried Brexit will come in tandem with an increase in farmed meat coming into the country if the UK's standards are not safeguarded.
60% of shoppers want UK businesses to bring forward their carbon net zero commitment and one in three want to see supermarkets commit to helping reduce deforestation.
The seventh annual Waitrose Food & Drink report is based on OnePoll research of 2,000 consumers of all ages, and not exclusively Waitrose customers. It is also supported by focus group research, alongside insights from Waitrose employees and sales data from its stores and Waitrose.com