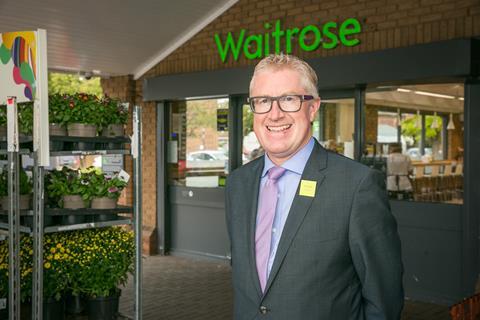 Winner: Waitrose Paddock Wood, Kent
Store manager: Roger Edwards
Opened: 1999
Size: 20,000 sq ft
Market share: 47%
Nearest rivals: Tesco – 5.8 miles, Sainsbury's – 6.9 miles, Asda – 8 miles, Morrisons – 11.1 miles
Store data source: Analysis by CACI.
Call the market planning group on 020 7602 6000
How has the latest English lockdown impacted shopping habits? We've seen sales go up while transactions are down. Customers now only tend to come in once a week or even once a fortnight, but they're spending more when they do visit. There's been no panic buying this time around, but I'm really proud of how well partners responded to it around the time of the first lockdown. They really came together to focus on keeping availability high.
What feedback have you had from customers on the store's coronavirus safety measures? We get lots of positive feedback from shoppers on the steps we've taken. They see the efforts we go to to assure them the store is as clean and hygienic as possible, and they appreciate the warm welcome from marshals at the entrance. It's important customers feel confident that we're on top of government guidelines, especially elderly and vulnerable shoppers. A key element is cleaning high-touch points at least twice a day to ensure all customers experience a hygienic store. This includes freezer door handles, trolleys, self-service tills, chip and pin machines and Quick Check handsets. Around half of our trade now comes from Quick Check and self-service checkouts – you can really see the appeal right now because it means less people are handling their products.
The store added online deliveries and collections this year. Are customers finding them useful? Yes, lots of shoppers were relieved to have them introduced in March. Both are very popular and we've had lots of positive feedback. We have three vans, which are full most days and fulfil over 500 delivery orders a week, and our collection service does around 100 orders. The work our drivers and pickers have done to carry out the services has been excellent. There were some availability issues with our deliveries at the beginning though, because customers were panic buying at that point in time, so it wasn't the best of timing.
Earlier this month Waitrose reaffirmed its commitment to keeping in-store counters. How are they faring in your store? Our counters have stayed open since the coronavirus pandemic began in March and sales continue to do really well. Customers enjoy asking partners about what they're buying, especially if they haven't purchased a particular product before.
How has the Give a Little Love campaign landed? Really well. Customers are already strongly supporting the Partnership's Christmas campaign and the merchandise range is selling exceptionally well. Customers expect us to support the local community and the need to do that is greater than ever before, which is why the link with FareShare and Home-Start is so important. Give a Little Love also shows the Partnership as two brands, and while most customers know we are one business and shop across John Lewis and Waitrose, others don't yet.