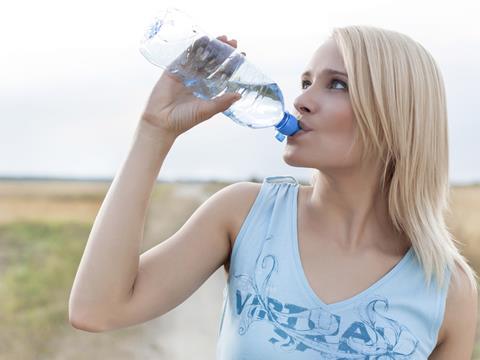 Volume sales of bottled water have exceeded cola for the first time, as consumers continue to turn their back on sugary soft drinks, The Grocer can reveal.
British shoppers bought 1.77 billion litres of plain water across the total retail market in the 52 weeks to 15 July 2017 – passing cola at 1.72 billion litres [IRI].
To outperform cola, a leading subsector of the soft drinks market, was "a huge milestone" for the bottled water category, with plain water expected to hit 4.7 billion litres by 2021, said Simon Oldham, group commercial director for Highland Spring Group.
The shift marked "an ever-increasing focus on health, as people looked for better ways to keep hydrated" he added. "Plus, there's the sugar debate. Combined, these factors are changing the shape of the category."
There was still a "huge" opportunity for further category growth, Oldham said. "Only 25% of people drink plain bottled water once a week. We need to keep encouraging healthy hydration habits among younger generations and, in particular, make bottled water the drink of choice for all kids."
While health was "definitely a key feature" in plain water's success, there was also "a growing recognition of the virtue of naturally sourced water over and above zero-calorie fizzy drinks", according to Harrogate Spring's Martin Crowson. "Its wide availability in the chiller cabinet, along with more recognisable brands, provides real choice."
Action on Sugar said it was "encouraging" that consumers were increasingly making healthier soft drink choices. "Sugar-sweetened drinks such as cola are the biggest contributor of sugar in the diets of children and teenagers," said AOS nutritionist Kawther Hashem. "Unless they are reduced, these drinks will contribute to high levels of obesity, type 2 diabetes and tooth decay."
SodaStream's head of marketing, Rachel Smith, hailed the volume sales "decline" in cola as "a positive light for health and obesity reasons".
There was no sign of water's upward trend slowing down, claimed James Pearson, general manager at Danone Waters UK & Ireland. "According to a report by Canadean, bottled water drinks are forecast to grow by 36% between 2016 and 2020."
While hot weather earlier this summer would have benefited bottled water sales, the category had been growing strongly for years, said Martin Wood, IRI head of strategic retail insight. "When the weather is hot, sales of cola increase massively too. Carbonates are on a downward trend, hit by sugar tax and people – especially young people – working out how much sugar is in cola."
Pepsi declined to comment, but a spokeswoman for Coca-Cola European Partners said it was "important to remember that the total cola segment is by far the largest in terms of value".
Cola generated £1.69bn in value sales – almost twice that of plain water in the same period.
And while fizzy drinks' total sales were falling, the adult soft drink market was bucking the trend, mainly due to "millennials' lifestyle choices", added Simon Coley, co-founder of Karma Cola.