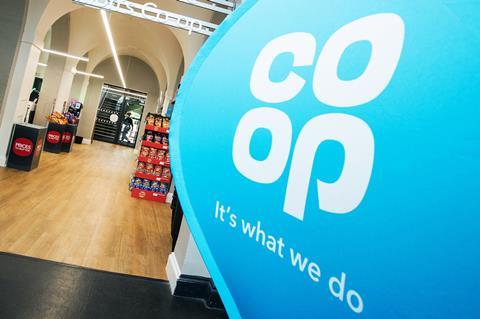 The retailer has already airlifted the protective equipment in to its stores in hospital locations

It has also carried out a full deep clean of its 13 logistics depots and 2,000 vehicles

The Co-op has so far closed 20 stores in locations where footfall had dried up
The Co-op is investing £3m in new protective equipment as it looks to ensure the safety of its staff and customers during the coronavirus crisis.
From today the convenience retailer is to begin installing thousands of protective Perspex screens at its stores, as well as providing more gloves and hand sanitiser for its frontline staff. Co-op said it was initially prioritising equipment for its stores in hospital locations and that it had airlifted in the protective gear.
The move follows the introduction of previous social distancing measures in stores such as limiting customer numbers and floor markers to help shoppers stay at least two metres apart.
The retailer said today it had also carried out a full deep clean of its 13 logistics depots and 2,000 vehicles.
"Our colleagues are local heroes who have rolled up their sleeves and are working tirelessly to feed the nation. I am so proud and grateful of how hard our colleagues are working to serve communities during such difficult circumstances by keeping the stores fully stocked," said Co-op Food CEO Jo Whitfield.
"They are working incredibly hard and doing their absolute best to serve the nation – it's only right we look after them by providing as much safety kit as we can.
"But we know it's tough for them and that they will feel anxious serving customers and we can all help to protect one another. Observing safe distances and showing patience and kindness will help everyone as we all pull together during this time."
Speaking on Channel 4 News last night, Co-op Group CEO Steve Murrells confirmed the retailer had so far closed 20 stores as they were in locations where footfall had dried up.
The retailer has earmarked a total of 60 stores for potential temporary closure including those 20. A spokeswoman told The Grocer it was still reviewing whether to close the other 40 sites.
Murrells said 20% of its store staff were currently off work due to self-isolation or illness, but that it could cope with an absence rate of up to 25%. He pointed out that its numbers had been bolstered by 5,000 temporary new recruits, most of whom have come over from the hospitality sector.
Co-op currently has around 65,000 store-based staff in the UK. The Grocer therefore estimates that with the addition of the 5,000 extra staff, the retailer currently has around 8,000 fewer staff in its stores.