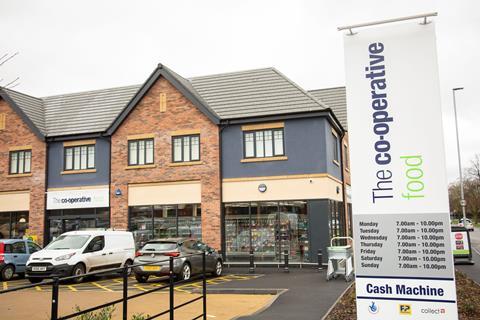 Staff will assemble the packages of food and other essentials before passing them on to the council to deliver

The society has repeated its call for customers to be considerate to each other and staff

It has also added a variety of security and safety measures across its store estate
Central England Co-op has teamed up with Lichfield District Council to get essential food packages to vulnerable members of the local community who are isolating at home because of the coronavirus outbreak.
The retailer, which has two stores and its head office in Lichfield, has linked up with council workers to create a community hub at its Boley Park food store.
Lichfield District Council will identify vulnerable community members to pass on to the co-op. Central England Co-op colleagues will then create a package of food and other essentials, with payment from the customer taken over the phone before the local authority delivers the goods.
The society said the scheme was the first of its kind in the country and, if successful, could lead to the creation of similar projects based from Central England Co-op community hub stores across the 16 counties it trades in – and even farther afield on a national scale.
"Co-operation is key to our communities coming together during this uncertain time and this is why we have linked up with Lichfield District Council to launch this pioneering scheme during this uncertain time," said CEO Debbie Robinson.
"This unique project will see the council contact vulnerable people in the community and work with us to deliver food and essentials to them.
"This is a great example of communities and organisations coming together at a time of need and creating a solution that will make a difference. We have no doubt that this will be a success and have further plans in place to rapidly roll out this out across other locations to make sure we support as many people as we can."
To find out more about the scheme, visit lichfielddc.gov.uk/coronavirushelp.
Meanwhile, the society has repeated calls for customers to be considerate to each other and its staff after it confirmed a man had been arrested and charged for allegedly coughing at members of the public at one of its Suffolk stores on Saturday (28 March).
The retailer said 34-year-old Jonathan Steele had been arrested and charged in connection with an incident at the society's Church Street store in the town of Eye, Suffolk. He will appear before magistrates on 10 April.
A spokesman for Central England Co-op said: "We can confirm that a man has been arrested and charged by police following an incident in our store in Church Street, Eye, on Saturday (28 March).
"We are continuing to assist Suffolk Police with its enquiries.
"We would like to reassure customers and colleagues that we are doing everything we can to keep them safe while they are out getting food and essentials in our community food stores.
"We would also like to take this opportunity to ask that everyone who visits us continues to be kind and to treat each other with care, compassion and respect at this uncertain time."
Central England Co-op added it had a variety of security and safety measures across the store estate, including:
Using every other till point or checkout to keep customers and colleagues a safe distance apart
Special markings in front of till points and checkouts of at least one metre
Customers are asked to pay with card or contactless if possible
Specialist cleaning products will be used to regularly wipe down the countertops and chip and pin machines and ATMs
Limiting the number of customers allowed in stores at any time, with additional security guards deployed to help support this new policy
Installation of plastic screens at all till points