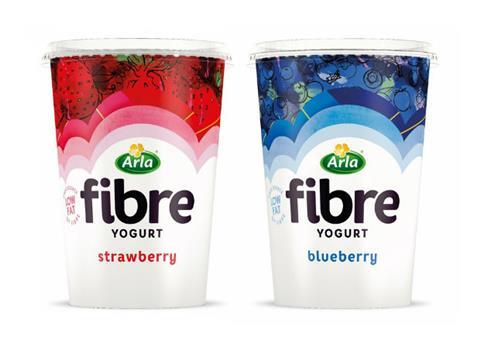 After introducing a raft of protein-packed products during the past two years, Arla is now focusing on fibre as the next big trend in functional foods.
The dairy co-op expanded its yoghurt lineup with the launch of Arla Fibre in Tesco stores on 29 January.
The range is derived from Arla's Danish Cultura brand, and contains 3.2g of fibre per 100g serving, compared to between 0.2g and 1g of fibre per 100g in standard fruit yoghurts, it said, and would help boost flagging fibre consumption.
Two big pot variants are available in strawberry and blueberry flavours (rsp: £1.69/450g), alongside 150g passion fruit & pineapple and raspberry single-serve variants (rsp: £0.85), which will go on sale in March.
Both small and large pots will also be available in other major supermarkets from March, when a marketing campaign to support the product including TV advertising, in-store marketing, digital and PR will go live targeting "balance-seekers" who "are interested in eating well to maintain personal wellbeing, but don't want to compromise on taste".
Arla Fibre offered consumers an "easy, tasty way to get more fibre into their diet, but without really knowing that they are eating fibre", a spokeswoman for the dairy co-op said. "You can't see it or taste it, it goes completely unnoticed. The amount of fibre in the yoghurt also allows us to make an EFSA-approved claim that the product supports a balanced digestion."
The launch was prompted by a mission to stay at the "forefront of food trends", she added, and to add new usage occasions to the yoghurt category, persuading consumers to switch to yoghurt for occasions that would traditionally see them choose an alternative high-fibre option.
"On average, the UK population only eats about 18g of fibre a day [2015 Scientific Advisory Committee Report on Carbohydrates and Health] so when the government released their 2015 guidelines advising that adults should eat 30g of fibre [each day], we realised just how much we are lacking," said Arla brand manager James Quayle.
"It's no surprise that we're struggling to get enough fibre, when traditional fibre-rich foods can be bland and uninspiring, so we set out to change all that and created a tasty yoghurt that equates to 16% of the 30g recommended by the government."
The Danish-made product was also high in protein and calcium, Arla said, while containing 9.5g-9.8g of sugar per 100g. The products join a yoghurt stable that includes Arla Skyr and Arla Protein. The brand said it was also eyeing the possibility of extending the Fibre range into other dairy categories as seen with the Protein range.