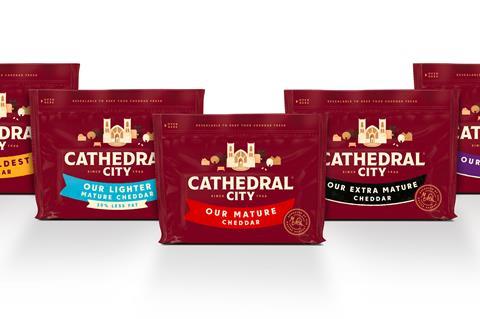 Saputo Dairy UK has unveiled the first major revamp for Cathedral City in six years.
The brand's redesigned packaging will start to roll out in "early May", Saputo said, and features a revamped city scene with the cathedral in the centre along with new SKU-specific colourways, while retaining the original burgundy colouring.
The branding also features a newly added signature from Cathedral City's master cheese grader to emphasise "the pride taken in the quality checks that go into the creation of every batch", the supplier said.
"Quality is at the heart of Cathedral City and has been for more than five decades," said Neil Stewart, head of marketing for cheese at Saputo Dairy UK. "We use only milk from dedicated farmers in the south west of England, and every batch is carefully reviewed and approved before it reaches our consumers."
According to the brand, the new design will enhance shelf standout by leveraging the brand's eye-catching burgundy colour, while the variant colourways would make it easier for consumers to find their favourite type of Cathedral City.
"We're exceptionally proud of our brand and its place in the lives of our consumers and want to inspire people to put their heart and soul into every day, in the same way we do with our cheese," said Stewart. "We're extremely excited about our new, modernised branding, which will enhance this emotional connection with our huge consumer base, whilst also welcoming new people into the Cathedral City family."
The new branding will be supported with brand assets to create consistency across the nation's favourite cheese line.
The brand is currently worth £288m [IRI SIG Outlet and Kantar Discounters & Bargain Store, 52 we 19 March 2022] and is bought by almost half (44.4%) of all UK households [Kantar 52 w/e 20 March].