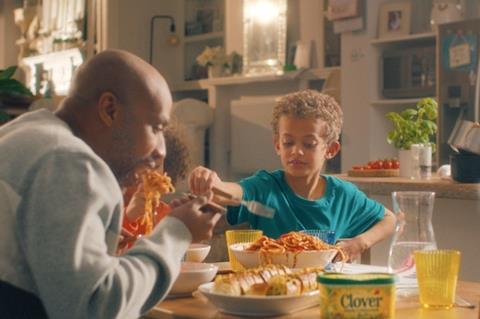 Clover has launched a new digital marketing campaign in a bid to further showcase its family credentials.
With the tagline 'Spread the Real Love', the dairy spread brand's new push has gone live across social channels, with bumper ads on YouTube, paid and organic activity on Facebook and Instagram, and influencer partnerships. It will run until 4 April.
It follows up on last year's 'Spread the Love' campaign, which the dairy giant said had reached more than 10 million consumers.
The Saputo-owned brand said the marketing would showcase heart-warming scenes of "reassuringly imperfect" home life that contrasted with the artificial nature of social media posts.
"Amidst modern-day pressure on parents to deliver more and to be more perfect than ever, both at home and on social media, we know that our Clover audience harbours regular feelings of 'guilt' around nurturing a happy, healthy family," said senior brand manager Jamie Carey.
"Social media brings us many positive things, but it's also to blame for sharing unrealistic images of other people's lives. That's why we decided to focus this year's campaign on the simple truth that sits at both the heart of our Clover brand and of a happy home – a focus on the real."
In The Grocer's latest Top Products survey, Clover cemented its position as the third-biggest butters and spreads brand in the UK with sales up 11.3% (£8.9m) to £87.7m [Nielsen 52 w/e 5 September 2020].
The news comes after Saputo unveiled a packaging refresh for fellow spreads brand Vitalite, as well as Cathedral City, in a bid to improve their on-shelf visibility.