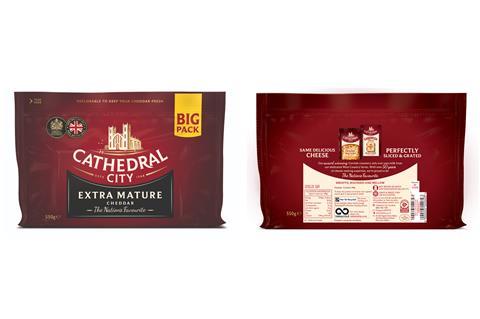 Saputo Dairy UK has refreshed the packaging of Cathedral City and spreads brand Vitalite in a bid to improve their on-shelf visibility.
The Canadian dairy giant has added roundels to the front of Cathedral City's cheddar blocks displaying the brand's royal warrant and a '100% British milk' claim – the brand sources all of its milk from the south west of England.
It has also reformatted back-of-pack messaging to carry references to Cathedral City's sliced and grated cheddar ranges as it seeks to boost consumer awareness of these products.
"The modernised design and clear call-out of our brand differentiators on front of pack will both improve standout at shelf and help to remind consumers why Cathedral City is the nation's favourite," explained Cathedral City marketing controller Neil Stewart.
"At the same time, we want to leverage the extensive reach of our Cathedral City block range to make more consumers aware of our wider portfolio. Awareness of our convenient Sandwich Slice and Grated ranges remains much lower [than Cathedral City cheddar blocks]. Our aim is to remind our customers that there's no need to compromise when buying a more convenient format."
The new packaging will roll out throughout January with Saputo suggesting other parts of Cathedral City's product portfolio will also be revamped in 2021.
Meanwhile Vitalite will also undergo pack design changes this month with the addition of extra messaging on its 500g tubs.
A new 'plant-based deliciousness' tagline will appear next to the plant-based spread's logo on front of pack, while copy highlighting its main functional and nutritional properties will be added to the side-of-pack space.
Saputo said the move had been prompted by "continued evolution in consumer attitudes to health and wellbeing" stemming from the Covid-19 pandemic and the continuing rise of flexitarianism.
"With this appetite for plant-based eating at an all-time high, the moment felt right to refresh our Vitalite packaging to reinforce our plant-based credentials at shelf, adding a clear front-of-pack claim alongside our core dairy-free brand message," said butters & spreads marketing controller Emilie Grundy.
In The Grocer's Top Products Survey, Cathedral City extended its position as the UK's highest value cheese brand with sales rising 9.9% (£27.2m) to just over £300m [The Grocer Top Products Survey/Nielsen 52 w/e 5 September].
Vitalite, meanwhile, ranked fifteenth in the spreads category after registering a rise in revenues of 2.4% (£200k) to £9.4m.