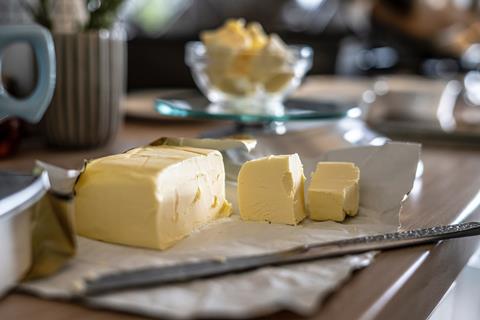 Can butters, spreads and margarine expect another golden year in 2021? Or are hopes for further growth likely to melt away?
As is stands, the category is in a position of strength. Its value has leapt by £128.1m (9.9%) this year, and it's sold an extra 27.2 million kg thanks to the many millions of extra at-home eating occasions.
Those figures mark something of a turnaround for BSM, which stayed in value growth in 2019 only because of price hikes.
Arla, for one, seems optimistic that more growth is ahead. The dairy giant has seen its Lurpak brand add more value than the rest of the top five put together, with growth of £40.7m on volumes up 16.1%. Its stablemate Anchor performed solidly with £130m in sales as unit sales grew by 13%.
"Covid-19 has been the main driver of the strong uplift in sales, initially due to shoppers stockpiling. However, the peak has not fully flattened yet," says Arla senior category & brand manager Rachel Campbell. She puts the continued increase in sales down to shopping spend per trip remaining up on last year.
BSM occasions have also remained strong into the second half of the year, she adds. Arla saw at-home sandwich occasions continue to rise into August, despite the Eat Out To Help Out scheme.
The Danish co-op's upbeat view isn't shared by all. Some suppliers doubt the category can build on its achievements. In fact, one senior industry figure expects BSM volume sales to decline by about 7% over the next 12 months.
The source cites three primary factors: the likelihood of no further sustained lockdowns; lower instances of stockpiling; and the fact schools are unlikely to close nationwide as they did in the first lockdown. Furthermore, the source believes scratch cooking and home baking – the two drivers of BSM occasions – have waned since their heights in the first lockdown.
Campbell concedes that the true picture of the category "could be masked by Covid-related uplifts" and that home baking occasions fell in September when children returned to school.
That might explain why, in an effort to sustain growth, a number of brands have upped their marketing game. In November, Anchor turned to social media for a series of 'food hacks' videos to provide "inspiration for tasty, easy food".
Also this autumn, Ornua Foods' Kerrygold brand returned to TV for the first time in four years, with an ad focused on taste and provenance (see p106). The push – which also featured on social and digital – "successfully expanded our shopper base, resulting in the strongest 12-week shopper gains of all block butter brands at more than 25%" says Ornua marketing director Mike Harper. It caps a solid year for Kerrygold, which saw volumes rise by 8.1%.
Interestingly, neither Anchor nor Kerrygold followed the example of other grocery brands and retailers by making reference to the pandemic in their campaigns.
Range rationalisation
Of course, it remains to be seen if the BSM category can continue to add value in 2021. But one trend that is almost certain to continue is range rationalisation by grocers, suppliers fear.
Some brands have already fallen victim. Take Utterly Butterly, which is now 28.9% down in value and 35.8% down in volumes thanks to "distribution losses across the multiples as they rationalise their ranges," according to Nielsen senior client analytics executive Amy Duffy. Owner Saputo says it has tried to rectify this via subsequent short-term listings in Asda and Morrisons.
More delistings across the category are likely because retailers are "continuing to focus on their private label ranges" Duffy adds.
Suppliers agree with her. Upfield marketing director Catherine Lloyd says: "Many retailers have had a real focus on SKU optimisation to make their butters and spreads fixtures work as hard as possible for them, and this looks to be a focus for next year too."
It means suppliers have been forced to trim their portfolios and take a more focused approach. Range rationalisation "has given us even more reason to keep to our strategy of driving our core brands" Lloyd adds.
"We responded to the lockdown by focusing on our core range of margarines under the brands Flora, Stork and I Can't Believe It's Not Butter. This focus has enabled us to drive the growth of all our core brands."
The move yielded results. The three brands end the year worth an extra £14.7m between them.
That focus at Upfield was bad news for its Bertolli brand – down 1.6% in both value and unit sales – and it also led to the axing of Upfield's European margarine Blue Band, which had returned to the UK at the end of 2019 after 15 years.
The combined effect of retailers' rationalisations and the subsequent cautious approach by suppliers has confirmed the May warning of Saputo senior brand manager Emilie Grundy. She predicted the BSM category would face "a real challenge from an NPD point of view".
While 2019 saw significant launches, such as Lurpak's Butterbox, Vitalite's (short-lived) vegan baking block and Flora's overhaul, 2020 has been muted among the top 10 brands by comparison. Upfield was the only big supplier to make a big move, unveiling the Flora Plant Butter block in July (see our Top Launch, p104).
If indeed suppliers' fears are realised in 2021 and rationalisation continues, so innovation could continue to be thin on the ground, stymying brands' growth.
And on top of that there's Brexit to worry about. The UK imports 40% of its butter. Supply chain delays such as lorry queues leaving ports could wreak havoc on availability and even lead to butter being wasted. This will be more of a problem if the UK leaves the EU without a deal. Not only would hold-ups be almost certain, but a 38% tariff could also see brands forced into making major price hikes.
A case in point is Lurpak, which is subject to legal origin protection that requires it to be made in Denmark using Danish cream. Owner Arla therefore cannot relocate production to the UK (contrary to Defra secretary George Eustice's insistence that it could). So, under no deal, Lurpak will certainly face significant additional costs.
That's the sort of unwanted situation that could quickly take the sheen off the UK's butters and spreads category.
Top Products 2020
In association with Nielsen
Top 20 Butters
£m
£ change
%
Total volume change:
9.9%
Total Category:
1362.0
128.1
10.4
Total Own Label:
346.1
43.1
14.2
This year's rank
Last year's rank
Brand
Manufacturer
£m
change (£m)
change (%)
1
1
Lurpak
Arla Foods
382.4
40.7
11.9
2
2
Anchor
Arla Foods
129.9
16.5
14.5
3
3
Clover
Saputo
87.7
8.9
11.3
4
4
Flora
Upfield
81.4
6.4
8.5
5
5
Country Life
Saputo
53.8
3.0
5.9
6
6
Bertolli
Upfield
35.4
–0.6
–1.6
7
7
Flora Pro Activ
Upfield
29.9
–2.1
–6.5
8
9
Stork
Upfield
29.2
3.7
14.4
9
10
Kerrygold
Ornua Foods
25.5
2.1
9.1
10
11
I Can't Believe It's Not Butter
Upfield
24.6
4.6
23.1
11
13
President
Lactalis
16.7
0.2
1.2
12
14
Benecol
Raisio
16.2
0.2
1.1
13
12
Utterly Butterly
Saputo
14.1
–5.7
–28.9
14
15
Yeo Valley
Arla Foods
11.3
1.1
10.3
15
16
Vitalite
Saputo
9.4
0.2
2.4
16
17
Willow
Saputo
8.9
0.5
5.6
17
18
Graham's
Graham's Family Dairy
7.5
1.4
22.3
18
19
Pure
Kerry Foods
5.7
0.0
0.7
19
20
St Helen's Farm
St Helen's Farm
2.8
0.3
10.0
20
21
Trewithen Dairy
Cornish Farm Dairy
2.7
0.2
9.7
The Grocer's Top Launch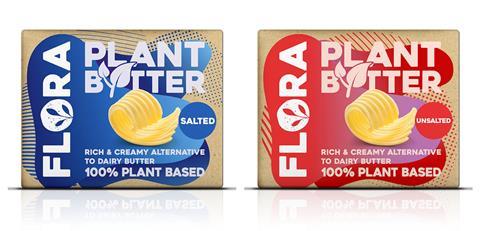 Flora Plant Butter, Upfield
When Saputo Dairy UK quietly dropped Vitalite's plant-based baking block last year, it left shoppers seeking an alternative. That is, until this July, when Upfield stepped in with its Flora Plant duo, to cash in on both the home-baking boom and the veganism mega-trend. Salted and Unsalted are made from a mix of sunflower, rapeseed and palm oils. Wrapped in biodegradable parchment paper, the product "cooks, fries, bakes and spreads just like dairy butter" says Upfield.