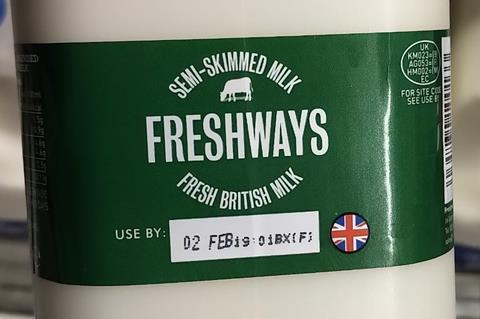 Freshways has announced plans to increase its farmgate milk price to 50p per litre from September – more than double the price it was paying its farmers at the start of the pandemic.
In a letter to its producers last week, seen by The Grocer, the milk processor's MD Bali Nijjar said Freshways had now achieved the goal it first announced in May to increase its July price to 45ppl.
But with commodity prices high, no sign of production costs reducing in the short term, and no indication declining milk volumes would increase over the coming months, the processor said market conditions meant a price of 50ppl was now required to stimulate farmers "to produce the milk we need".
And retailers – who have already been pushing their prices up in the wake of soaring farm costs – also needed to do more, Nijjar suggested.
"Aldi is now at £1.35 for four pints, and Sainsbury's, Asda and Morrisons are at the same level. We also expect our customers to increase their prices to match."
Hitting 50ppl would be "a milestone achievement, not just for Freshways but for the whole industry, as we believe we will be the first processor to hit this threshold on a standard litre basis", he added.
Freshways' move follows warnings by agricultural consultancy Kite in April that record farmgate prices would continue rising into the autumn and above the 50ppl mark.
"Aside from feed, fertiliser prices and availability, this grazing season will also be a key factor – as it is likely farmers will cut back on fertiliser use, despite the false economy of doing so," said Kite managing partner John Allen.
"This will potentially mean forage quantity and quality will be compromised for the winter," which pointed to a continuation of tight supplies of milk, he suggested – echoing AHDB's estimate that production will be down by 5% year on year.
It comes as major processors such as Arla and Müller had increased their prices to 47.79p and 46p respectively for a standard litre of milk at the farmgate for June. Both Tesco and Sainsbury's, meanwhile, increased their July prices to 46ppl earlier this month. Kite estimates show that average farmgate prices are now above 42ppl and climbing.
"We want to retain and recruit new farmers to the business, and we will only do that by showing price leadership rather than being a price follower," Nijjar said.
"We believe our announcement in May to 45p for July set the pace for other processors, and we believe striving for 50p for September will do the same," he added.
"There are currently no signs that milk volumes are increasing and in fact analysts think the fall-off in production after the peak is faster than in previous years. We want to mitigate this for our milk pool."