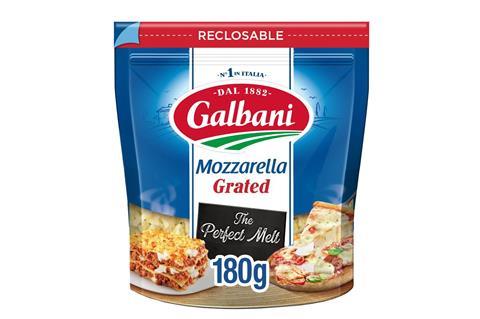 Lactalis UK & Ireland has expanded its Galbani continental cheese portfolio with a new grated mozzarella line that offers the "perfect melt".
Available from 5 July in Tesco (rsp: £1.90/180g), the innovation is the brand's first grated product in the UK, and offered a "simple and convenient way to add mozzarella to a variety of dishes", Lactalis said.
Made with pasteurised cow's milk, the NPD came in response to insight for the brand that revealed 72% of mozzarella consumers used the cheese for pizza and 50% for pasta – two occasions where a grated format is most convenient.
The packs are marketed in resealable bags, designed to keep the cheese fresher for longer.
"Grated mozzarella is the second biggest grated type of cheese, but is currently under-represented in the UK market," claimed Lactalis UK & Ireland group marketing director Héloïse Le Norcy-Trott.
"This means there is a significant opportunity for Galbani, as the market leader, to tap into this trend and encourage consumers to trade up."
The launch coincides with the end of a new Galbani media campaign, running from early May to the end of July, using the brand's 'It's Got to be Galbani' creative, which is appearing on radio, VOD and via YouTube advertising.
The ad creative, with a tongue in cheek tone of voice, was designed to educate the cheese-loving British public on how to pronounce 'Galbani' properly, while also inspiring them to try different product usages.