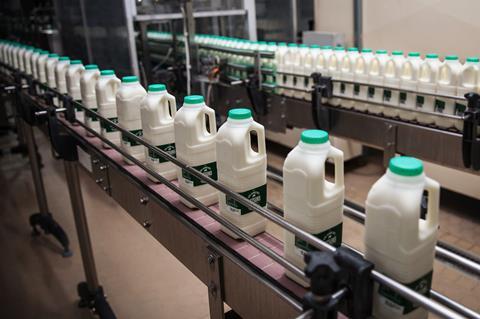 Up to 144 jobs are at risk after Medina Dairy announced plans to close its Watson's Dairy site in Fareham, Hampshire.
The liquid milk processor launched a statutory consultation at the site today following a strategic review that concluded the need to streamline and simplify operations and consolidate processing activity "to create a more sustainable and appropriately scaled business".
The move follows a turbulent past 12 months for the processor. The Grocer understands it lost its contract to supply own label milk to Sainsbury's last summer as part of negotiations that also ultimately led the retailer to also drop the now-collapsed Tomlinsons Dairies. The Sainsbury's contract was due to expire this summer.
Medina was also badly affected by the coronavirus-linked collapse of the foodservice and hospitality sectors, with sales "reduced to almost zero" in April, leading it to slash its farmgate milk price and defer payments to farmers.
Its milk price was due to increase by 1ppl to 25.75ppl from 1 September – the company's fourth successive price increase since June – as a result of a "more positive market environment as supply and demand has come more into balance". However, the pandemic had forced it to look at how to remove "significant costs" from the business.
It said the loss of the "major retail contract" understood to be Sainsbury's and the "extremely challenging market conditions faced by all in the fresh liquid milk sector" had ultimately made the Watson's site "unviable".
The processor planned to investigate other potential uses for the Watson's site while also seeking to find alternative employment opportunities for staff potentially affected by the closure. Medina said it did not expect the closure would have any negative impact on its existing customers or farmers and was proposing to transfer production of own label and Watsons-branded milk to other manufacturing sites.
These include its Buckley's Dairy in West Yorkshire, Severnside in Gloucestershire and the Acton dairy in London operated by Freshways – its "processing partner" and the subject of long-held merger rumours confirmed by Freshways MD Bali Nijjar in an interview with The Grocer in April.
"It is with much regret that we have announced our proposal to cease operations at our Watson's Dairy site," said Medina CEO Sheazad Hussain.
"It is important to stress that the proposed closure is not a reflection of the hard work and commitment of those employed at Watson's," he added. "We know the announcement and forthcoming consultation will be unsettling, and we will work hard to keep staff informed of the process as it moves forward, as early and as frequently as possible."