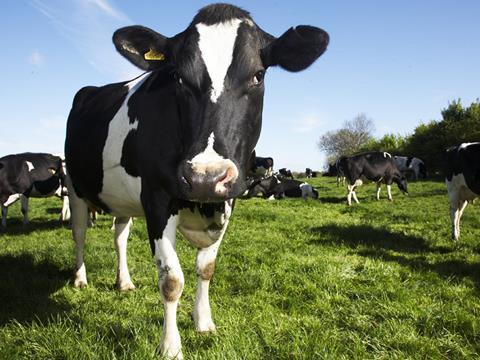 Müller Milk & Ingredients has launched a review of its 230 dairy farmer suppliers in Scotland, following a 25% increase in milk production since 2014.
The processor said the surge in production had not been supported by growth in demand for fresh milk products in Scotland, and as a result, its supply base north of the border was "not sustainable".
With the Scottish milk market saturated, Müller was instead having to transport some 180 million litres a year – equivalent to 33 litres of additional milk for every person in Scotland – to its dairies in England, in order to find new markets.
Such an arrangement placed a significant financial burden on the processor, said MMI milk supply & operations director Rob Hutchison, while also having serious environmental consequences.
Transporting milk to be processed and sold on in England required 6,000 tanker loads a year, with the resultant CO2 emissions from transport alone estimated at more than 3,500 tonnes per year. This represented the equivalent of emissions from more than 400 households, the size of a small town, Hutchison claimed.
"The environmental and financial cost of moving this volume of milk is substantial and we must work urgently with farmers who supply us and other industry stakeholders to review a range of measures to address this increasingly unsustainable situation, both in the short and longer term."
Oversupply
The announcement comes less than a year after Müller completed a £15m upgrade of its Bellshill milk plant last December, as part of the largest single investment in Scottish dairy processing for more than a decade.
The supplier reported a fall in sales by £171.5m to £1.9bn for the year to 31 December 2018, and an operating loss of £99.6m in accounts lodged at Companies House.
It follows a series of warnings by MMI CEO Patrick Müller that low returns in the liquid milk sector had reached a "tipping point", prompting the supplier to launch its Project Darwin cost-cutting programme in February, designed to save the business £100m over the next two years.
MMI cut its standard farmgate price by 1ppl to 25.75ppl at the end of August, citing "record levels of milk production by farms at a time when the industry is facing a marginal decline in demand for fresh milk and other dairy products".
Other milk suppliers have followed suit in recent months, while the AHDB warned earlier this year that the 2019/20 milk production season was set for a 29-year high, with volumes forecast at 12,590m litres – up 0.7% on the 2018/19 season.
NFU Scotland milk committee chairman John Smith said the announcement was "a real concern for all Müller producers in Scotland", with the union "taking a number of calls from worried members".