The dairy industry has long touted import substitution as a potential cure for its profitability woes. But as Brexit threatens UK food security, is it ready to ramp up domestic production?
As Liz Truss pointed out in her much-memed performance at the 2014 Conservative Party Conference, the UK is very much a net importer of dairy.
In fact, we are second only to China in running the largest dairy trade deficit in the world, according to HMRC data, fuelled in part by our dependence on imported cheese.
Only 58% of the available cheese supplies on the UK market were actually sourced domestically in 2018 [Defra]. And while self-sufficiency has been slowly improving in yoghurt and butter, just 74% and 88% of these were sourced from the UK last year.
This all added up to a negative trade balance of 130,502 tonnes in 2018, with the UK importing 1.3 million tonnes of dairy products against just under 1.2 million in exports [HMRC].
Whether that's "a disgrace", as ex-environment secretary Truss' excruciating speech suggested, is open to debate. But as experts warn Brexit could be the biggest threat to our food security since World War II, the UK's lack of self-sufficiency in dairy is more pressing than ever.
So could processors ramp up domestic production in the event of post-Brexit trade disruption? Or does a lack of self-sufficiency leave the sector at risk of supply shortages and price hikes?
The UK is already almost 100% self-sufficient in liquid milk. In fact, declining consumption has led to overcapacity in the processing sector in recent years. 
According to a recent report by Kite Consulting, the capacity of the industry's 15 largest liquid milk plants was approaching 102% of demand in 2018. That represents around 500 million litres of excess milk in the system.
This overcapacity, combined with falling consumption and subdued milk prices, has placed the UK liquid milk sector in a 'precarious financial position', the report warned.
Indeed, both Müller Milk & Ingredients and Arla have launched widespread cost-cutting programmes over the past 18 months, with Müller explicitly citing a collapse in the profitability of liquid milk. This led to Müller Milk & Ingredients announcing in June it would close its Foston dairy in Derbyshire.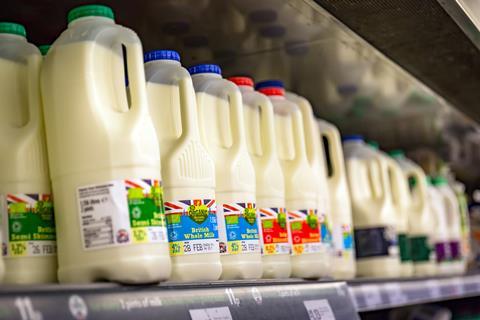 The closure of Müller's Foston plant should bring UK milk supply closer to 100% of demand, says Kite Consulting director John Allen. But that won't be enough to solve the profitability crisis in the sector. Large quantities of British milk are still being sold at marginal prices, according to Kite's report.
With liquid milk in such dire straits, the industry began thinking about ramping up production of added-value dairy products long before Brexit threatened to disrupt supplies. Using British milk to produce more butter, yoghurt and cheese domestically is seen as a potential cure for the industry's profitability woes, and "import displacement through innovation in fresh dairy products" was a key pillar of the 'Leading the Way' sustainable growth plan back in 2014.
Müller, which has placed import substitution at the core of its UK strategy in recent years, led the way in 2013 when it opened a £17m butter processing plant in Market Drayton. It added a second packet butter line in May 2017 – effectively doubling its capacity – to "help us continue to displace butter imports".
More recently, Müller completed a £50m expansion of its Telford yoghurt facility in July in a move designed to reduce its "dependence on imported yoghurt products". The expansion will allow Müller to almost double production from 300 million to 500 million pots a year, with the potential for further expansion to 700 million pots a year – helping it meet "growing demand from consumers for branded and own-label yoghurts, made with milk from British farms".
This rebalancing of its manufacturing base means Müller is "far less dependent on third parties and imported dairy products", claims Müller Milk & Ingredients MD Patrick Müller.
Arla, meanwhile, has ploughed more than £70m into a series of upgrades across 10 of its 12 manufacturing sites since last year. That includes a £33.6m cash injection at its Aylesbury plant to make it the home of its lactose-free products.
But more investment would be necessary across the sector before the UK has enough processing capacity in yoghurt and butter to replace imports altogether.
According to August 2017 analysis by AHDB, the UK's butter trade deficit had improved "significantly" since Müller built its butter plant. But the UK would still need to produce an extra 23,000 tonnes to become self-sufficient, which would require "another plant around half the size of the plant Müller opened in 2013, for a £17m investment".
Since then, the shortfall has deepened. AHDB analysis in April 2019 warned the UK would have a 33,000-tonne deficit of butter if trade with the EU stopped entirely after Brexit.
It's a similar situation in yoghurt. AHDB says the UK had a net trade deficit of 126,000 tonnes of yoghurt in 2017, and filling the void would require "significant investment in processing capacity and a plan for brand development to offer an alternative to the current brand portfolios". According to HMRC data, the UK's yoghurt deficit remains high, at just over 110,000 tonnes on average during the past two years.
Cheddar investment
More progress has been made in cheddar. In 2017, AHDB warned there was a lack of processing capacity to produce the 18,000 tonnes of cheddar needed to replace imports. But "since then, a number of UK cheddar producers have invested, or announced investments, to increase capacity, which would allow the extra volume to be produced", it says.
Saputo (under its previous guise of Dairy Crest) announced it would invest £85m into expanding its cheese business last March, while Wyke Farms announced multimillion-pound plans to double production in a bid to target export markets in January 2019. These two investments alone should add about 38,000 tonnes to the UK's cheese producing capacity.
There is now enough capacity in cheese production to ramp up domestic production and replace imports, agrees Bill Hunter, MD of the UK's largest cheese importer, Ornua Foods UK. "Our assumption is the majority of export cheddar would also stay in the UK in the event of a no-deal, while the imported cheddar would find its way to those markets UK cheddar was exported to," he adds.
However, there would need to be a "realignment" of milk flows to ensure production levels were stable throughout the year, as opposed to the seasonal spikes seen around the spring flush, he warns.
If the UK wanted to become totally self-sufficient in dairy, it would also need to produce more milk in total, AHDB analysis suggests.
The levy board calculates UK farmers would need to produce an extra 675 million litres of milk or 69,000 tonnes of cream to address the 33,000-tonne deficit in butter production. They would also need an extra 170 million litres of milk to fill the 18,000-tonne cheddar deficit and about 151 million tonnes of milk to make up the 11,000-tonne yoghurt deficit.
Joined-up approach
Ramping up milk production is possible, says AHDB's head of market specialists for dairy and livestock Chris Gooderham. Irish farmers managed to increase production by 15% after the EU quotas ended in 2015. However, doing the same in the UK would require "the whole supply chain working to a plan" on what extra milk is needed, what processing capacity is available and what products will be made, he says.
This sort of supply chain co-ordination is crucial when you consider that if the UK were to produce more butter from raw milk, it would generate more skimmed milk or skimmed milk powder, which would also need to find a market.
"It may seem crazy given we're staring down the barrel of a gun, but in the long run the UK will probably produce more dairy,"
Processors will also have to work closely with farmers to ensure the right quality of milk is available, suggests Saputo Dairy UK president Tom Atherton. As the processor boosts its cheese production, it will need to look at growing its milk field into areas such as Somerset and Dorset, "but we don't want to travel too far as the quality of milk varies and that contributes to the quality of the cheese", he adds.
The biggest obstacle to self-sufficiency, though, is the ongoing uncertainty around Brexit. "Many domestic producers just don't have the capacity to increase production. That will take time and money, but it's difficult to make that kind of investment at the moment," says Arla executive VP for Europe Peter Giørtz-Carlsen.
With so much uncertainty around exports, UK processors are also reluctant to increase production, suggests Wyke Farms MD Rich Clothier. "UK suppliers need more support from retailers and more long-term contracts. We can only guarantee that supply with more commitment."
While building a self-sufficient supply chain will take significant time and money, however, there is hope. "UK capacity could be created to meet any demand – if there is the milk, space and appetite to invest," says FrieslandCampina UK MD Will Jones.
Ultimately, the industry should and could adapt, says Kite's John Allen. "It may seem crazy given we're staring down the barrel of a gun, but in the long run the UK will probably produce more dairy," he says.
All the industry needs now is some certainty. Wouldn't that be nice?
Lack of labour: dairy sector fears no-deal Brexit would affect workers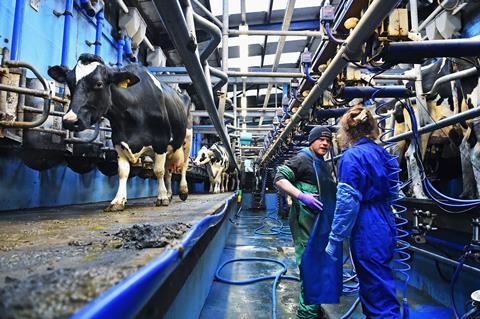 Home secretary Priti Patel faced a furious backlash in August, after announcing the UK would end free movement on Halloween in the event of a no-deal Brexit.
It prompted outrage in the produce sector, with NFU horticulture board chair Ali Capper warning the policy would exacerbate existing labour shortages.
After pressure in the courts, Patel was forced into an embarrassing u-turn at the start of September. However, despite welcoming the news, the NFU warned big questions remained about the UK's future immigration policy.
It's not just growers bracing themselves for post-Brexit labour shortages. Last year, the Royal Association of British Dairy Farmers warned "more than half of dairy farmers are experiencing difficulty at some level with recruiting staff".
A possible "cliff-edge" labour shortage at dairy farms was predicted after Brexit, it suggested in evidence to the Commons Efra Committee.
More than a third of the UK's milk was produced on farms that employ foreign staff, 'almost all of whom could move or return to EU countries post Brexit', it warned.
The RABDF's fears were echoed in an LSE report for Arla last July. It warned of a 'market tightness for lorry drivers', as the freight sector faced a lower supply of EU workers.
'While the cause is not empirically identified, there is evidence to suggest that both sterling depreciation and falls in the UK's attractiveness to Euro-pean labour have pla-yed a large role. This issue may well intensify as a result of Brexit,' the report added.
Brexit-fuelled labour concerns are a "huge issue" for the industry, says Crediton Dairy MD Tim Smiddy. Around a quarter of the company's staff are non-UK nationals.
"We do rely to a fair extent on eastern European labour, but many of them are highly skilled, highly qualified people with good work ethics. The industry would really suffer without these people."
The Dairymen
From lab-made milk to butter shortages, our annual definitive guide to the dairy category is full of insight and analysis on the latest trends shaping the industry. This year, The Dairymen will explore how the UK's exit from the EU will affect British dairy, and ask how the industry can make sure it is prepared to tackle the supply chain pressures it might bring, as well as making the most of potential new export markets.
Gold and Platinum members will be able to download The Dairymen from 14 September. Subscribe now. We'll be publishing insight and analysis from The Dairymen online throughout September and October.

Kevin is The Grocer's fresh foods editor, overseeing our coverage related to the retail fresh foods sector, including dairy, meat, fish, poultry, fruit & veg and eggs, as well as the plant-based foods category.

He also assists in production of The Grocer's annual Dairymen supplement, while also writing about food commodities, sourcing, sustainability, politics and regulation; and has appeared as a commentator on both radio and TV on the state of the UK food industry.

Prior to joining The Grocer in 2014, Kevin wrote about retail financial services for a Financial Times business publication, and began his career as a journalist working for regional newspapers in Wales.

Follow Kevin on Twitter: @KevWhite77