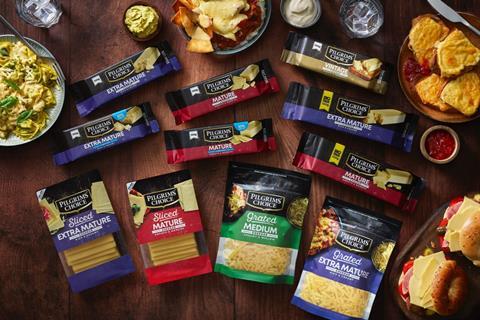 Ornua Foods UK has reported a positive economic performance for 2022, despite what it called a challenging year.
The Pilgrims Choice owner saw turnover increase by 20% from £400m to £480m, which it attributed to stable sales volumes and more sustainable pricing in response to inflationary pressure.
Pre-tax profit grew from £8m to £11.6m which reflected, in particular, the impact of favourable commodity price movements, the company said.
The company had net assets of £54.7m at the balance sheet date compared with £47.9m previously.
"Ornua Foods UK delivered a positive performance in what was a uniquely challenging year for the business, as factors such as rapidly rising inflation in every part of the supply chain, changing consumer buying behaviour, and the cost of living crisis heavily impacted the market," said Simon Ball, MD of Ornua Foods UK.
He added that the dairy company had responded to this pressure through "close engagement with key suppliers and customer partners to agree sustainable pricing structures and by leveraging the resources, scale, and expertise of the Ornua Group".
The business continued investment in cheese cutting and packaging technology at its facility in Leek, Staffordshire. It also invested in the introduction of more environmentally friendly and fully recyclable packaging formats across its Pilgrims Choice range and own-label grated cheese ranges.
Both its Kerrygold and Pilgrims Choice brands have continued to receive multichannel marketing campaigns which has helped to ensure their positions as the UK's number three block butter brand and number two branded cheddar respectively.
"Looking ahead, our long-term strategic focus is on driving continuous improvement; delivering best-in-class category expertise and support to customers; building a strong innovative portfolio of own-label and branded products; and optimising experience in dairy commodities," said Ball.
"This, together with ongoing investment in both our state-of-the-art packing facility in Leek and our Pilgrims Choice and Kerrygold brands, will continue to give the company a competitive advantage in the marketplace."
This announcement follows Pilgrims Choice first foray into the snacking cheese market with the release of a six-pack net of individually wrapped extra mature cheddar snack sticks aimed at adults. The Snack Sticks will go on sale in 380 Tesco stores nationwide in September (rsp: £2.10/6x20g).