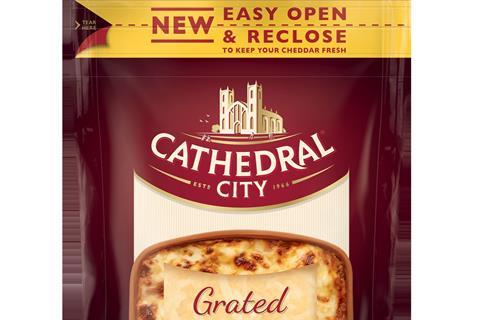 Saputo Dairy UK has switched to resealable Doy packaging on its 180g packs of grated Cathedral City in a bid to maintain the freshness of the product.
The dairy giant said the new packs also offered "improved functionality and shelf presence", while the easy to open and close zip-style packaging allowed it to cut the amount of SRP card material the cheese was merchandised in by 15%.
Launching from 16 November, the packaging change will apply to Cathedral City's Grated Mature, Mature Lighter and Mature PMP 180g cheese SKUs. It comes after research by the brand showed grated cheese buyers preferred resealable packaging.
"We know that for grated cheese buyers, convenience is key, which is why we've improved our packaging to make it easier to open, pour and re-close, keeping the cheese fresher for longer," said Cathedral City marketing controller Andy Thompson.
The Doy packaging is also recyclable via the TerraCycle Cheese Film Recycling Scheme, launched by Cathedral City in July.
The total grated cheese category is now worth £377m and has seen volume growth of 15.4% over the past 52 weeks [IRI and Kantar (discounters & bargain stores), 52 w/e 3 October]. Cathedral City Grated is the leading brand in the category, with sales of £8.8m.