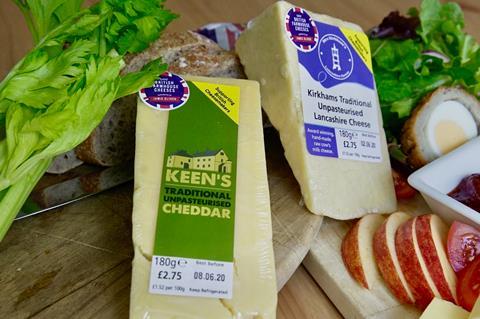 Tesco has teamed up with Jamie Oliver to support two British farmhouse cheesemakers hit by the Covid-19 pandemic.
The two cheesemakers – Kirkhams Lancashire Cheese and Keen's Cheddar – have both struggled amid the pandemic, as they previously relied heavily on the foodservice industry and farmers markets for income.
The downturn in trade since lockdown had left both cheesemakers with a lot of raw milk, as well as several tonnes of cheese that would have otherwise been thrown away, they said.
In partnership with Oliver's campaign to save British farmhouse cheeses, Tesco gave both cheesemakers listings, with products rolling out at nearly 200 stores (rsp: £2.75/180g).
The supermarket reported that demand for speciality cheese had rocketed by 35% in recent weeks compared with the same time last year across its UK stores.
It said the new listings would "help the two cheesemakers survive the present crisis and give Tesco shoppers access to the delicious cheeses".
Tesco cheese buying manager Matt Merridew said the cheeses would be "fine additions" to the supermarket's speciality cheese range, which has "soared in popularity" during lockdown as "shoppers are treating themselves to luxury varieties".