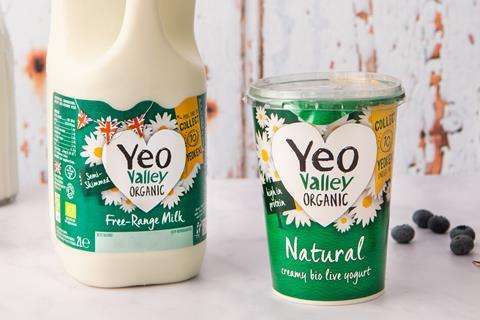 Yeo Valley has reintroduced the 'organic' descriptor to its logo as part of a major new marketing push to promote its links to sustainable farming.
Using the tagline 'Put Nature First', the campaign, described as a "rallying cry" by Yeo Valley, will launch on 1 September.
Designed to tie in with Organic September, it will see the brand return to TV screens for the first time since its famous 'rapping farmer' and boyband-themed ads in 2010/11. There will also be on-pack promotions, in-store, digital, social and influencer marketing.
The brand has backed this up with a "strong focus on sustainable packaging solutions", as its yoghurt range moves to 100% recycled and recyclable packaging where possible, and Yeo Valley's Arla-manufactured milk moves to lighter weight, 50% rPET bottles.
Yeo Valley said the replacement of the words 'family farm' with 'organic' on its logo – which started rolling earlier this summer on its milk SKUs and new frozen kefir – would reinforce its commitment to maintaining organic soil health. This helped "store more carbon in the soil where it belonged, encouraged wildlife to flourish, and allowed the farm to be more ecologically diverse", it added.
As part of the revamp, all packaging will also feature a black board on the side of pack that signposts messaging about how the brand puts nature first and how consumers can too. The messaging will also carry information on the importance of soil health and reducing food miles.
A new interactive QR code will also feature on packs, allowing consumers to scan the code and watch a new short film on the brand's ideology, as well as viewing additional information around ongoing nature-led initiatives.
The rollout of the campaign was "even more significant as the UK re-evaluates its relationship with the natural environment and food production in the wake of the pandemic", said Yeo Valley owner Tim Mead.
"We have an opportunity now to build on this drive by increasing awareness of the benefits of organic and the importance of supporting British organic food production; from fewer food miles and a lower carbon footprint to supporting the local economy with thousands of jobs," he added.
"As organic dairy farmers, we have a vital role to play in better communicating how we produce our products in a way that supports nature and works with it, not against it," Mead said. "We're aiming to champion organic dairy farming and encourage more people to buy organic products as a simple way that they can Put Nature First."
It comes as research of 2,069 adults for the brand by YouGov this month found that almost two-thirds of shoppers had taken a post-pandemic pledge to live life differently, with 63% seeing 2020 as the year "to take a post-pandemic pledge to reduce their environmental impact on the world".
Some 41% though protecting the environment was more important now than a year ago, and felt the urgency to make changes, with 14% planning to buy more ethically produced products and 29% wanting to enjoy more local produce to help do their bit for the environment.
However, 77% said they did not fully understand the role organic farming could play in helping to slow down climate change.