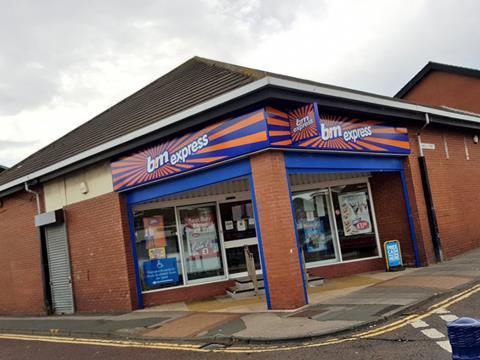 B&M has begun converting Heron Foods branches to a new "B&M Express" fascia.

At least six Heron Foods stores are operating under the new banner in a trial understood to have begun in July. Among them is a new branch in Ebbw Vale, South Wales, which opened on 27 August.

B&M acquired Heron Foods in a deal worth £152m in April last year. The acquisition helped boost B&M's profits by 25.4% to £229.3m in its latest full-year results to May this year.

B&M has not officially commented on the new fascia but branches known to have converted include Middleton in Greater Manchester, Stanningley in West Yorkshire and Seaham in County Durham.

At least three Heron Foods stores in Wales are also known to be operating under the B&M Express banner, including the newly opened store in Ebbw Vale. The others are in Shotton, Flintshire and Merthyr Tydfil, Glamorgan.
The move is a "trial" which began a "couple of months" ago according to Heron Foods sources.

"There's a few around the country that have opened under the new fascia," said a source. "We're all Heron inside and offer the same great deals and quality, just essentially under a different name with our sister company's branding."

In May Heron Foods announced plans for 30 new stores this year as it built on its estate of 250 by pushing into the south. The chain opened a 2,500 sq ft store in Luton, Bedfordshire, on 17 August.

B&M has plans to open between 40 and 50 new branches a year. The firm is currently recruiting for a number of positions after opening five new stores across the UK, building on its estate of around 560. One of the new stores is in Kirkcaldy, Fife. In England, new branches have opened in Ashton-in-Makerfield, Greater Manchester, Whaley Bridge in Derbyshire and Hatfield in Hertfordshire.